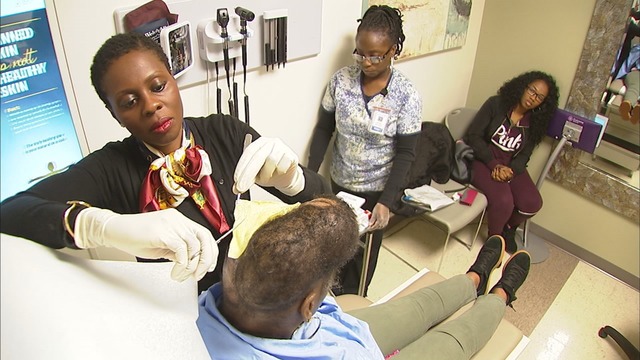 MSM's Kpodzo Performs Life-Changing Reconstructive Surgery on Woman Badly Burned as a Baby

For more than 50 years, Gladys White has lived with the wounds from a tragic childhood accident. She was badly burned when she was just two months old, leaving her body with scars and wounds on her scalp. White has been unable to grow her own hair and has worn wigs to cover her injuries ever since she was a young child. But Morehouse School of Medicine Surgery professor and Morehouse Healthcare surgeon Dzifa Kpodzo, M.D., M.P.H., was able to change White's life through reconstructive surgery.
Fox 5 Atlanta documented White's story and the procedure. Click here to watch and read the full story on Fox 5 Atlanta's website.
About Morehouse School of Medicine (MSM)
Founded in 1975, Morehouse School of Medicine (MSM) is among the nation's leading educators of primary care physicians, biomedical scientists, and public health professionals. In 2011, MSM was recognized by Annals of Internal Medicine as the nation's No. 1 medical school in fulfilling a social mission. MSM faculty and alumni are noted for excellence in teaching, research and public policy, as well as exceptional patient care.
Morehouse School of Medicine is accredited by the Commission on Colleges of the Southern Association of Colleges and Schools to award doctoral and master's degrees. To learn more about programs and donate today, please visit www.msm.edu or call 404-752-1500.