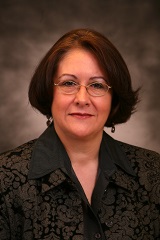 Minerva T. Garcia-Barrio, Ph.D.
Assistant Professor
Physiology

Cardiovascular Research Institute
Location: Research Wing 209
Phone: 404-756-5050
E-mail: mgarcia-barrio@msm.edu
Education
GRADUATE:
University of Salamanca, Spain,
Degree: Doctor of Philosophy in Molecular Biology

University of Buenos Aires, Argentine,
Degree: Master of Science in Biology
Research Interests
The dynamic process of vascular remodeling involves changes in the proliferative state, cell fate and migration of the vascular smooth muscle cells (VSMC). Ultimately, these effects are brought about by changes in the transcription profile of genes expressed in these cells. Of particular interest are lineage specific transcription factors (TFs) of the basic helix-loop-helix family (bHLH). These TFs have been shown to regulate proliferation and differentiation in multiple tissues as well as play a crucial role in development. The ID proteins have an HLH domain but lack the basic domain responsible for DNA binding. They behave as dominant negative regulators of the bHLH transcription factors through the formation of heterodimers that fail to bind DNA. ID proteins together with other bHLHs have been identified as crucial components of vascular development, physiology and disease. In this research group, we are interested in: Increasing the understanding of the role of the ID proteins as modulators of vascular remodeling through their interactions with other bHLHs. Uncover the molecular basis for regulation of the Wnt/beta-catenin/tcf-LEF pathway by ID3. Study of the contributions of the ASCL family of bHLH transcription factors to VSMC biology with a focus on hypertension. Systematically analyze the contribution of other under-characterized bHLH to vascular biology. It is our hope that the elucidation of the intricate gene regulatory networks involving bHLH TFs that govern vascular remodeling and lesion formation will foster the development of novel therapeutic interventions capable of preventing the diseased state.
Publications
Zhong W, Oguljahan B, Xiao Y, Nelson J, Hernandez L, Garcia-Barrio M, Francis SC. Serum and glucocorticoid-regulated kinase 1 promotes vascular smooth muscle cell proliferation via regulation of β-catenin dynamics. Cell Signal. 2014 Aug 22;26(12):2765-2772. doi: 10.1016/j.cellsig.2014.08.002. PMID: 25152363

Harp D, Chowdhury I, Garcia-Barrio M, Welch C, Matthews R, Thompson W. Maintaining the reproductive potential of cancer patients during cancer treatment. Front Biosci (Schol Ed). 2014 Jan 1;6:39-49. Review. PMID: 24389259

Liu D, Lin Y, Kang T, Huang B, Xu W, Garcia-Barrio M, Olatinwo M, Matthews R, Chen YE, Thompson WE. Mitochondrial dysfunction and adipogenic reduction by prohibitin silencing in 3T3-L1 cells. PLoS One. 2012;7(3):e34315. doi: 10.1371/journal.pone.0034315. Epub 2012 Mar 30. PMID: 22479600

Chowdhury I, Garcia-Barrio M, Harp D, Thomas K, Matthews R, Thompson WE. The emerging roles of prohibitins in folliculogenesis. Front Biosci (Elite Ed). 2012 Jan 1;4:690-9. Review. PMID: 22201905

Sun Z, Zhang J, Zhang J, Chen C, Du Q, Chang L, Cao C, Zheng M, Garcia-Barrio MT, Chen YE, Xiao RP, Mao J, Zhu X. Rad GTPase induces cardiomyocyte apoptosis through the activation of p38 mitogen-activated protein kinase. Biochem Biophys Res Commun. 2011 May 27;409(1):52-7. doi: 10.1016/j.bbrc.2011.04.104. Epub 2011 Apr 28. PMID: 21549102

Xie C, Huang H, Sun X, Guo Y, Hamblin M, Ritchie RP, Garcia-Barrio MT, Zhang J, Chen YE. MicroRNA-1 regulates smooth muscle cell differentiation by repressing Kruppel-like factor 4. Stem Cells Dev. 2011 Feb;20(2):205-10. doi: 10.1089/scd.2010.0283. Epub 2010 Oct 18. PMID: 20799856


Click here to view additional publications.
Honors and Awards
2011: Outstanding Mentor Award, Morehouse School Medicine

2011: Selected as Marshall for the Ph.D. Program, Commencement Ceremony

2010: Selected as Marshall for the Ph.D. Program, Commencement Ceremony

2009: Teaching Award" from the Ph.D. Graduating Class

2008: Appreciation Award, PhD Students at Morehouse School of Medicine