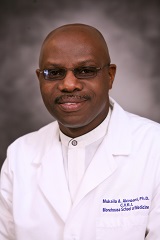 Mukaila A. Akinbami, Ph.D.
Research Instructor & Lab Operations Manager
Physiology

Cardiovascular Research Institute
Location: Research Wing D206
Phone: 404-752-1829
E-mail: makinbami@msm.edu
Education
POSTGRADUATE:
Morehouse School of Medicine
Training: Physiology and Endocrinology


GRADUATE:
University of Missouri, Columbia, MO
Degree: Doctor of Philosophy in Physiology

University of Missouri, Columbia, MO
Degree: Master of Science in Animal Sciences


UNDERGRADUATE:
Lincoln University
Degree: Bachelor of Science
Research Interests
Dr. Akinbami's laboratory is focused on integrated physiology of transgenic animal models of hypertension, defining the role of high blood pressure on vascular function and gene expression profile in human and animal models of hypertension, diabetes and obesity. His research interests include: physiologic genomics of hypertension, vascular remodeling and its complications including stroke, and cognitive impairment and Alzheimer's disease. He has a long-standing interest and extensive experience in integrated physiology of animal models. As a research physiologist, he has developed and characterized various animal models of hypertension including genetic hypertension, drug-induced hypertension, diet-induced hypertension and surgically-induced hypertension; such that age, hemodynamic findings are correlated with vessel structural changes (vascular remodeling) and gene expression.

In addition, Dr. Akinbami has established a Hemodynamic Core lab at CVRI to enhance collaboration among Morehouse School Medicine researchers that has become a key component of the cardiovascular research infrastructure in the department of Physiology, Neurosciences and Cardiovascular Research Institute. As the lead investigator of animal models of cardiovascular functional studies on NIH-funded projects and with several collaborators, he has established microarray profiling from mouse and rat RNA extracted from aortas. Furthermore, he has established human gluteal biopsy technique for micro-vessel dissection, fat and skin isolation. RNA extraction and quantification from the above tissues are utilized in gene expression profiling and were correlated to vascular function. Finally, in collaboration with Neuroscience Department, he has established projects in sleep disorders, vitamin D and circadian misalignment.
Publications
Li Q, Ma Y, Li W, Xu W, Ma L, Fu G, Tian X, Wang Y, Li X, Bythwood T, Richards J, Akinbami MA, Song Q. A promoter that drives gene expression preferentially in male transgenic rats. Transgenic Res. 2014 Apr;23(2):341-9. doi: 10.1007/s11248-013-9773-9. Epub 2013 Dec 15. PMID: 24338332

Xie CQ, Zhang J, Xiao Y, Zhang L, Mou Y, Liu X, Akinbami M, Cui T, Chen YE. Transplantation of human undifferentiated embryonic stem cells into a myocardial infarction rat model. Stem Cells Dev. 2007 Feb;16(1):25-9. PMID: 17348803

Xiong C, Mou Y, Zhang J, Fu M, Chen YE, Akinbami MA, Cui T. Impaired expression of PPAR gamma protein contributes to the exaggerated growth of vascular smooth muscle cells in spontaneously hypertensive rats. Life Sci. 2005 Oct 28;77(24):3037-48. Epub 2005 Jun 20. PMID: 15970297

Chen YE, Fu M, Zhang J, Zhu X, Lin Y, Akinbami MA, Song Q. Peroxisome proliferator-activated receptors and the cardiovascular system. Vitam Horm. 2003;66:157-88. Review. PMID: 12852255

Mann DR, Akinbami MA, Gould KG, Castracane VD. Leptin and thyroxine during sexual development in male monkeys: effect of neonatal gonadotropin-releasing hormone antagonist treatment and delayed puberty on the developmental pattern of leptin and thyroxine secretion. Eur J Endocrinol. 2002 Jun;146(6):891-8. PMID: 12039711

Zhang J, Fu M, Zhu X, Xiao Y, Mou Y, Zheng H, Akinbami MA, Wang Q, Chen YE. Peroxisome proliferator-activated receptor delta is up-regulated during vascular lesion formation and promotes post-confluent cell proliferation in vascular smooth muscle cells. J Biol Chem. 2002 Mar 29;277(13):11505-12. Epub 2002 Jan 23. PMID: 11809753


Click here to view additional publications.