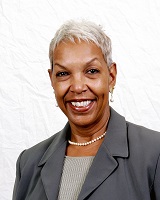 Elleen M. Yancey, Ph.D.
Associate Professor
Community Health & Preventive Medicine

Location: Buggy Works Bldg 100-A Suite 200
Phone: 404-752-1511
E-mail: eyancey@msm.edu
Education
GRADUATE:
Clark Atlanta University
Degree: Doctor of Philosophy in Counseling Psychology

Columbia University
Degree: Master of Arts in Developmental Psychology


UNDERGRADUATE:
Fisk University
Degree: Bachelor of Arts in Psychology
Research Interests
HIV/AIDS Prevention

Community-Based Prevention Research

Translational Research
Publications
Yancey EM, Mayberry R, Armstrong-Mensah E, Collins D, Goodin L, Cureton S, Trammell EH, Yuan K. The community-based participatory intervention effect of "HIV-RAAP". Am J Health Behav. 2012 Jul;36(4):555-68. doi: 10.5993/AJHB.36.4.12. PMID: 22488405

Mayberry RM, Daniels P, Yancey EM, Akintobi TH, Berry J, Clark N, Dawaghreh A. Enhancing community-based organizations' capacity for HIV/AIDS education and prevention. Eval Program Plann. 2009 Aug;32(3):213-20. doi: 10.1016/j.evalprogplan.2009.01.002. Epub 2009 Feb 5. PMID: 19376579

Mayberry RM, Daniels P, Akintobi TH, Yancey EM, Berry J, Clark N. Community-based organizations' capacity to plan, implement, and evaluate success. J Community Health. 2008 Oct;33(5):285-92. doi: 10.1007/s10900-008-9102-z.PMID: 18500451

Akintobi TH, Yancey EM, Muteteke D, Bailey J. Partnership for evaluation of the Bilingual Bicultural Service Demonstration Program: merging public health research and practice. J Interprof Care. 2004 Nov;18(4):440-1. No abstract available. PMID: 15801558

Yancey EM, Wang MQ, Goodin L, Cockrell T. HIV/AIDS knowledge scale in relation to HIV risks among African-American women. Psychol Rep. 2003 Jun;92(3 Pt 1):991-6. PMID: 12841476


Click
here
to view additional publications
Honors and Awards
2013: Mentor of the Year Award, Morehouse School of Medicine

2010: Dean's Outstanding Research Award, Morehouse School of Medicine

2010: Joseph D. Greene Community Service Award, Collaborative Recipient: Morehouse School of Medicine Prevention Research Center Partnership., Healthcare Georgia Foundation

2008: Contributions to HIV/AIDS Prevention Award, Fulton County Department of Health and Wellness Communicable Diseases Prevention Branch.