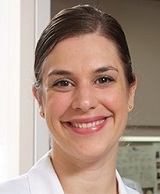 Anne Gaglioti, M.D.
Assistant Professor
Family Medicine

Director of Southeast Regional Clinicians Network & Senior Research Scientist
National Center for Primary Care
Location: National Center for Primary Care, A-314
Phone: 404-756-5262
E-mail: agaglioti@msm.edu
Education
POSTGRADUATE:
Case University Medical Center, Cleveland, OH
Residency: Family Medicine

The Robert Graham Center for Policy Studies and Georgetown University School of Medicine, Washington, DC
Fellowship: Primary Care Health Policy


MEDICAL SCHOOL:
Case Western Reserve University School of Medicine, Cleveland, OH
Degree: Doctor of Medicine


UNDERGRADUATE:
The College of William and Mary, Williamsburg, VA
Degree: Bachelor of Arts



Research Interests
Primary Care Health Services Research

Care of Underserved, Disparate, and Marginalized Populations

Practice-Based Research Networks
Board Certification
American Board of Family Medicine
Publications
Gastala NM, Wingrove P, Gaglioti A, Petterson S, Bazemore A. Medicare Part D:
Patients Bear The Cost Of 'Me Too' Brand-Name Drugs. Health Aff (Millwood). 2016
Jul 1;35(7):1237-40. doi: 10.1377/hlthaff.2016.0146. PubMed PMID: 27385239.

Baltrus P, Xu J, Immergluck L, Gaglioti A, Adesokan A, Rust G. Individual and
County Level Predictors of Asthma Related Emergency Department Visits among
Children on Medicaid: A Multilevel Approach. J Asthma. 2016 Jun 10:0. [Epub ahead
of print] PubMed PMID: 27285734.

Gaglioti AH, Petterson S, Bazemore A, Phillips R. Access to Primary Care in US
Counties Is Associated with Lower Obesity Rates. J Am Board Fam Med. 2016
Mar-Apr;29(2):182-90. doi: 10.3122/jabfm.2016.02.150356. PubMed PMID: 26957374.

Charlton ME, Matthews KA, Gaglioti A, Bay C, McDowell BD, Ward MM, Levy BT. Is
Travel Time to Colonoscopy Associated With Late-Stage Colorectal Cancer Among
Medicare Beneficiaries in Iowa? J Rural Health. 2015 Nov 26. doi:
10.1111/jrh.12159. [Epub ahead of print] PubMed PMID: 26610280; PubMed Central
PMCID: PMC4882265.

Gaglioti A, Cozad A, Wittrock S, Stewart K, Lampman M, Ono S, Reisinger HS,
Charlton ME. Non-VA primary care providers' perspectives on comanagement for
rural veterans. Mil Med. 2014 Nov;179(11):1236-43. doi:
10.7205/MILMED-D-13-00342. PubMed PMID: 25373047.

Gaglioti A, Petterson SM, Bazemore AW, Phillips RL Jr, Dodoo MS, Zhang X.
Primary care's ecologic impact on obesity. Am Fam Physician. 2009 Mar
15;79(6):446. PubMed PMID: 19323356.