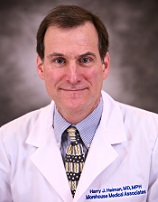 Harry J. Heiman, M.D., M.P.H.
Associate Professor
Family Medicine

Director of Health Policy
Satcher Health Leadership Institute
Location: National Center for Primary Care, Room 241
Phone: 404-752-1694
E-mail: hheiman@msm.edu
Education
POSTGRADUATE:
West Suburban Hospital Medical Center
Residency: Family Medicine

Robert Wood Johnson Foundation Health Policy
Fellowship: Health Policy

MEDICAL SCHOOL:
University of Cincinnati College of Medicine
Degree: Doctor of Medicine

GRADUATE:
Emory University Rollins School of Public Health
Degree: Master of Public Health

UNDERGRADUATE:
Washington University
Degree: Bachelor of Arts


Research Interests
Health Policy

Health Disparities & Health Equity

Primary Care and Health System Transformation
Board Certification
American Board of Family Medicine
Publications
Adekeye OA, Heiman HJ, Onyeabor OS, Hyacinth HI. The new invincibles: HIV screening among older adults in the U.S. PLoS One. 2012;7(8):e43618. doi: 10.1371/journal.pone.0043618. Epub 2012 Aug 27. PMID: 22952722

Abara WE, Smith L, Zhang S, Fairchild AJ, Heiman HJ, Rust G. The Influence of Race and Comorbidity on the Timely Initiation of Antiretroviral Therapy Among Older Persons Living With HIV/AIDS. Am J Public Health. 2014 Nov;104(11):e135-41. doi: 10.2105/AJPH.2014.302227. Epub 2014 Sep 11. PMID: 25211735

Abara W, Heiman HJ. The Affordable Care Act and Low-Income People Living With HIV: Looking Forward in 2014 and Beyond. J Assoc Nurses AIDS Care. 2014 Nov-Dec;25(6):476-82. doi: 10.1016/j.jana.2014.05.002. Epub 2014 Jul 1. No abstract available. PMID: 24996850

Bayer CR, Heiman HJ. Developing health leaders to combat sexual health disparities. J Health Care Poor Underserved. 2012 May;23(2 Suppl):27-32. doi: 10.1353/hpu.2012.0075. PMID: 22643552

Malhotra K, Heiman HJ. Public health policy is political. Am J Public Health. 2012 Jul;102(7):e1; author reply el-2. doi: 10.2105/AJPH.2012.300801. Epub 2012 May 17. No abstract available. PMID: 22594726

Heiman HJ. Building the medical home. Fam Pract Manag. 2009 Mar-Apr;16(2):8. No abstract available. PMID: 19366041


Click here to view additional publications.