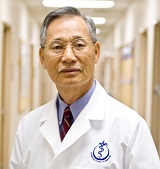 Woo Kuen Lo, Ph.D.
Professor
Neurobiology

Location: Medical Education Building, 305
Phone: 404-752-1558
E-mail: wlo@msm.edu
Education
GRADUATE:

Wayne State University

Degree:
Doctor of Philosophy in Anatomy
State University of New York at Geneseo

Degree:
Master of Art in Biology

UNDERGRADUATE:
National Taiwan Normal University
Degree: Bachelor of Science in Biology

Research Interests
Visual Science

Lens Cell Biology and Mechanism of Cataract Formation
Publications
Biswas SK, Jiang JX, Lo WK (2009). Gap junction remodeling associated with cholesterol redistribution during fiber cell maturation in the adult chicken lens. Mol Vis 15:1492-1508.

Biswas SK, Lee JE, Brako L, Jiang JX, Lo WK (2010). Gap junctions are selectively associated with interlocking ball-and-sockets but not protrusions in the lens. Mol Vis 16:2328-41.

Lo WK, Biswas SK, Brako L, Shiels A, Gu S, Jiang JX. (2014). Aquaporin-0 targets interlocking domains to control the integrity and transparency of the eye lens. Invest Ophthalmol Vis Sci. 55(3):1202-1212.

Biswas SK, Brako L, Lo WK (2014). Massive formation of square array junctions dramatically alters cell shape but does not cause lens opacity in the cav1-KO mice. Exp Eye Res 125:9-19.

Biswas SK, Brako L, Gu S, Jiang JX, Lo WK (2014). Regional changes of AQP0-dependent square array junction and gap junction associated with cortical cataract formation in the Emory mutant mouse. Exp Eye Res 127:132-142.
Honors and Awards
2008: Dean's Outstanding Research Award (Morehouse School of Medicine)

1990-1987: Research Career Development Award (Attached to NIH R01Grant)

1981: Fight for Sight Citation for Significant Contribution to Vision Research, The Association for Research in Vision and Ophthalmology