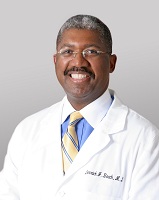 Derrick J. Beech, M.D., FACS
Senior Associate Dean
Surgery

Clinical Affairs & Faculty Development
Phone: (404) 616-1415
E-mail: dbeech@msm.edu
Education
POSTGRADUATE:
University of Texas MD Anderson Cancer Center, Houston, TX
Fellowship: Surgical Oncology

Temple University Hospital and Clinics in Philadelphia
Residency: Surgery


MEDICAL SCHOOL:
Medical College of Virginia in Richmond
Degree: Doctor of Medicine


UNDERGRADUATE:
Duke University
Degree: Bachelor of Science in Mathematics
Research Interests
Cancer prevention and control

Novel gene therapy for cancer and large scale clinical trials with a special emphasis on breast cancer, sarcoma and colorectal cancer.
Board Certification
American Board of Surgery
Publications
Atanda A, Chambers T, Beech DJ. Situs inversus. Tenn Med. 2013 Jan;106(1):33-4. PMID: 23477240

Aysola K, Desai A, Welch C, Xu J, Qin Y, Reddy V, Matthews R, Owens C, Okoli J, Beech DJ, Piyathilake CJ, Reddy SP, Rao VN. Triple Negative Breast Cancer - An Overview. Hereditary Genet. 2013;2013(Suppl 2). pii: 001. PMID: 25285241

Woods CC, Bacon LN, Ballard BR, Beech DJ. Subungual melanoma: diagnosis and management. Tenn Med. 2012 Feb;105(2):35-7, 42. Erratum in: Tenn Med. 2012 Mar;105(3):43. PMID: 22375439

Ukoli FA, Fowke JH, Akumabor P, Oguike T, Taher KA, Murff HJ, Amaefuna ER, Kittles R, Ahaghotu C, Osime U, Beech DJ. The association of plasma fatty acids with prostate cancer risk in African Americans and Africans. J Health Care Poor Underserved. 2010 Feb;21(1 Suppl):127-47. doi: 10.1353/hpu.0.0242. PMID: 20173289

Stokes MC, Bennett J, Beech DJ, Ballard B. Angiosarcoma of the scalp. Am Surg. 2008 Dec;74(12):1228-30. No abstract available. PMID: 19097549

Coons BJ, Clark PE, Maynes LJ, Terhune KP, Stokes MC, Beech DJ. Sigmoid-urachal-cutaneous fistula in an adult male. Urology. 2009 Feb;73(2):444.e5-7. doi: 10.1016/j.urology.2008.02.031. Epub 2008 Apr 9. PMID: 18400263


Click here to view additional publications.
Honors and Awards
Phi Kappa Phi Honor Society

Alpha Omega Alpha Honor Medical Society

Who's Who in Medicine and Healthcare.