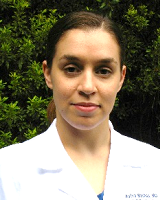 Keren Aviva Bashan-Gilzenrat, M.D.
Assistant Professor, Division of Trauma and Critical Care
Surgery

Location: Grady Surgery Department, Room 2C142
Phone: (404) 616-1415
E-mail: kbashangilzenrat@msm.edu
Education
POSTGRADUATE:
University of North Carolina, Chapel Hill, NC
Fellowship: Surgical Critical Care

Emory University at Grady Memorial Hospital, Atlanta, GA
Fellowship: Burn Surgery

Emory University, Atlanta, GA
Residency: General Surgery


MEDICAL SCHOOL:
University of Connecticut Health Center, Farmington, CT
Degree: Doctor of Medicine


UNDERGRADUATE:
University of Connecticut, Storrs, CT
Degree: Bachelor of Science in Physiology and Neurobiology


Board Certification
American Board of Surgery
Publications
Kim SH, Ma X, Weremowicz S, Ercolino T, Powers C, Mlynarski W, Bashan KA, Warram JH, Mychaleckyj J, Rich SS, Krolewski AS, Doria A. (2004). Identification of a locus for maturity-onset diabetes of the young on chromosome 8p23. Diabetes. 53(5):1375-84.


Frenkel M, Sherman GF, Bashan KA, Galaburda AM, LoTurco JJ. Neocortical ectopias are associated with attenuated neurophysiological responses to rapidly changing auditory stimuli. (2000). Neuroreport. 11(3):575-9.