MSMNAA Immediate Past President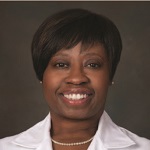 Leslie R. Holmes, M.D., '95 msmnaapresident@msm.edu

Dr. Holmes is a graduate of Howard University in Washington, DC. There she earned a Bachelor of Science in Radiation Therapy with a Science minor. In 1995, she graduated from Morehouse School of Medicine in Atlanta, GA. She completed residency in the Department of Radiation Oncology at Emory University School of Medicine in 2001.
She is a dedicated physician who has practiced in the community, as well as being an Assistant professor at Emory University in an academic setting. Dr. Holmes has a passion for educating patients about their disease process and also educating fellows, residents, and students in radiation oncology and related fields. She has been a co-investigator on several research projects.
Dr. Holmes is a member of the American Society for Therapeutic Radiation Oncology, The American Board of Radiology, the Board of Directors of the Sisters of Promise (Susan G. Komen), Morehouse School of Medicine National Alumni Association, Atlanta Medical Association and Alpha Kappa Alpha Sorority, Inc.