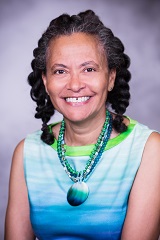 Camara Phyllis Jones, M.D., M.P.H., Ph.D.
Senior Fellow
Satcher Health Leadership Institute and Cardiovascular Research Institute

Adjunct Associate Professor
Community Health & Preventive Medicine
Location: Medical Education Building, Room 202
Phone: (404) 756-5216
E-mail: cpjones@msm.edu
Education
GRADUATE:
Johns Hopkins School of Hygiene and Public Health
Degree: Doctor of Philosophy in Epidemiology

Johns Hopkins School of Hygiene and Public Health
Degree: Master of Public Health

MEDICAL SCHOOL:
Stanford University School of Medicine
Degree: Doctor of Medicine

UNDERGRADUATE:
Wellesley College
Degree: Bachelor of Arts in Molecular Biology
Research Interests
Social Epidemiology
Research Methods
Social Determinants of Health
Anti-Racism
Publications
Jones CP, 2018, Toward the Science and Practice of Anti-Racism: Launching a National Campaign Against Racism, Ethnicity and Disease, 28, 231-234


Jones CP, 2014, Systems of Power, Axes of Inequity: Parallels, Intersections, Braiding the Strands, Medical Care, 52, S71-S75


Jones CP, Jones CY, Perry GS, Barclay G, Jones CA, 2009, Addressing the Social Determinants of Children's Health: A Cliff Analogy, Journal of Health Care for the Poor and Underserved, 20, 1-12

Jones CP, Truman BI, Elam-Evans LD, Jones CA, Jones CY, Jiles R, Rumisha SF, Perry GS, 2008, Using "socially assigned race" to probe White advantages in health status, Ethnicity and Disease, 18, 496-504
Jones CP, 2001, "Race", Racism, and the Practice of Epidemiology, American Journal of Epidemiology, 154, 299-304

Jones CP, 2000, Levels of Racism: A Theoretic Framework and a Gardener's Tale, American Journal of Public Health, 90, 1212-1215

Jones CP, 1997, Living Beyond our "Means": New Methods for Comparing Distributions, American Journal of Epidemiology, 146, 1056-1066
Honors and Awards
Her many honors include the Wellesley Alumnae Achievement Award (Wellesley College's highest alumnae honor, 2018), the John Snow Award ("for distinguished service to the health of the public through outstanding contributions to epidemiology," Epidemiology Section, American Public Health Association, 2011), the Chanchlani Global Health Research Award (McMaster University, 2019), and awards named after luminaries David Satcher (ASTDHPPHE, 2003), Hildrus A. Poindexter (APHA Black Caucus, 2009), Paul Cornely (APHA Health Activists, 2016), Shirley Nathan Pulliam (Maryland Health Equity Leadership Award, 2016), Louis Stokes (NMA Health Advocacy Award, 2018), Frances Borden-Hubbard (SAHP Social Justice Award, 2018), and Cato T. Laurencin (Cobb Institute and NMA Distinguished Research Award, 2018).


Lauded for her compelling clarity on issues of "race" and racism, she has delivered seven Commencement Addresses over the past few years: University of North Carolina Gillings School of Global Public Health (2018), University of Minnesota School of Public Health (2017), Southern Illinois University School of Medicine (2017), City University of New York School of Medicine (2017), University of California San Francisco School of Medicine (2016), University of California Berkeley School of Public Health (2016), and University of Washington School of Public Health (2013). She was also awarded an honorary Doctor of Science degree by the Icahn School of Medicine at Mount Sinai (2016).