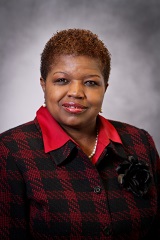 Elaine Archie-Booker, Ed.D, RN
Advisor
Master of Public Health Program

Director of Community Engagement
Community Health & Preventive Medicine
Location: National Center for Primary Care, Suite 345
Phone: 404-752-1880
E-mail: eabooker@msm.edu
Education
GRADUATE:
University of Georgia
Degree: Doctor of Education in Adult Education, Concentration in Health Education

Georgia State University
Degree: Master of Science in Public and Urban Affairs, Concentration Urban Health


UNDERGRADUATE:
Georgia State University
Degree: Bachelor of Science in Nursing
Research Interests
Tobacco Free HBCU Pilot Program
Board Certification
International Certified Prevention Specialist

Healthcare Provider Certification
Publications
Smith D., Miles-Richardson S., Dill L., Booker E. (2013). Fresh food in vulnerable communities, in Rubin L., Merrick J., Environmental health disparities in children: Asthma, food and obesity (Chap 13) New York: Nova Science.

Smith D, Miles-Richardson S, Dill L, Booker E, (2013). Community Garden Programs and Interventions: Implications for Food Deserts in Metropolitan Atlanta, International Journal on Disability and Human Development.

Langley, M.,Archie-Booker,E., Pitts, D.,Holiday,M.(2000). The CPEP Story: An After School Substance Abuse Prevention Project, Lessons Learned:(CSAP)(SAMHSA)

Langley, M., Archie-Booker, E. (2000). Workout Plus: Substance Abuse Prevention Education Curriculum Trainer's Manual. Atlanta, GA: Art of Printing.

Booker, E. Cervero, R. Hornes, C. (1999). The Politics of Planning Culturally Relevant AIDS Prevention Education for African-American Women. Adult Education Quarterly, (49(4), 163-175.
Honors and Awards
2014: Commencement Marshal Morehouse School of Medicine

2014: Faculty Service Award Morehouse School of Medicine Class Day

2014: Faculty Teaching Award Morehouse School of Medicine Master of Public Health

2013: Commencement Marshal Morehouse School of Medicine

2013: Morehouse School of Medicine Master of Public Health Student Body Appreciation Award