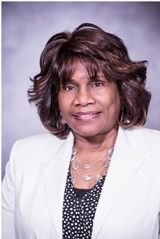 Katherine A. Erwin, D.D.S., M.P.A., M.S.C.R.
PI and Program Director
Area Health Education Centers

Program Manager
Atlanta Clinical Translational Scientific Research Institute, Community Engagement Research Project
Location: National Center for Primary Care, Room 201
Phone: 404-756-5278
E-mail: kerwin@msm.edu
Education
POSTGRADUATE:
St. Luke's Hospital
Residency: Dental Practice

Morehouse School in Medicine
Fellowship: Longitudinal Faculty Development Program


GRADUATE:
Howard University School of Dentistry
Degree: Doctor of Dental Surgery

Cleveland State University
Degree: Master in Public Administration

Morehouse School of Medicine
Degree: Master of Science in Clinical Research



Research Interests
Oral cancer

Cigar use among 18-25 year olds
Publications
Taylor V, Erwin Woods K, Ghose, M, Thornton EP, "Models to Increase enrollment of Minority Females in Science-based Careers", Journal of the National medical Association, March, 2001

Erwin K, Blumenthal D, Chapel T, Richardson L, Allwood LV, "Building an Academic-Community Partnership for Increasing the Representation of Minorities in the Health Professions, J of Health Care for the Poor and Underserved, Vol.15, Number 4, Nov 2004.

Ahluwalia K, Ro M, Erwin K, Treadwell H. Letter to the Editor, Racial Disparities in Oral Cancer Risk and Outcomes, Journal of Cancer Education, 2005, Volume 20, Number 2.

Caplan L, Erwin K, Lens L, "Breastfeeding and Dental Caries in Young Children", Journal of Public Health Dentistry. Volume 68 Issue 4, p238-241, Fall 2008.

Cohn EG, Jia H, Smith WC, Erwin K, Larson, EL, "Measuring the Process and Quality of Informed Consent for Clinical Research: The development and testing of the P-QIC," The Oncology Nursing Forum, 2011 Jul;38(4):page 417-22.

Erwin K. "Oral Cancer: A Silent Killer of African American Men", National Conference on Men's Health, Atlanta Georgia, October 6-8th. 2005.


Click here to view additional publications.