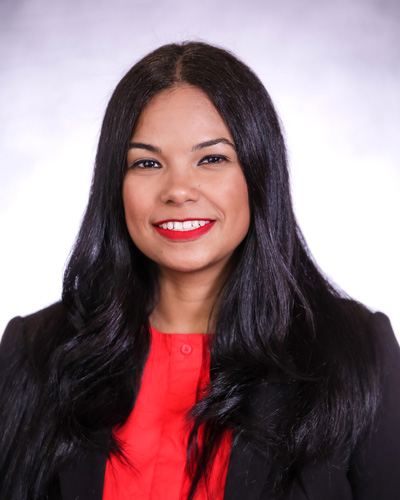 Natalie D. Hernandez, Ph.D., M.P.H.
Assistant Professor
Community Health & Preventive Medicine

Interim Director
Center for Maternal Health Equity
Location: Prevention Research Center, Bldg 100A, Ste. 200A
Phone: 404-752-1523
E-mail: nhernandez@msm.edu
Education
POSTGRADUATE:
Satcher Health Leadership Institute, Morehouse School of Medicine
Postdoctoral Training

GRADUATE:
University of South Florida
Degree: Doctor of Philosophy in Public Health

University of South Florida
Degree: Graduate Certificate in Interdisciplinary Women's Health

Emory University, Rollins School of Public Health
Degree: Master of Public Health in Behavioral Science and Health Education

UNDERGRADUATE:
Stony Brook University
Degree: BA, Anthropology
Research Interests
Community-based participatory research (CBPR)
Women's health inequities
Technology-assisted interventions
Health policy
Social determinants of health
Publications
Hernandez, N. D., Chandler, R., Nava, N., Tamler, I., Daley, E. M., Baldwin, J., Buhi, E., O'Rourke, K., Romer-Daza, N. & Grilo, S. (2019). Young adult US born Latina women's thoughts, feelings and beliefs about unintended pregnancy. Culture, Health and Sexuality. In press
Hernandez, N. D., Dorsey, J., Glass, D. M., Pope, E., Worthy, N., Blasingame, E., ... & Dotson, Y. (2019). Community-Engaged Approaches to Address the Ethical Concerns of Maternal Mental Health Disparities Research. Journal of health care for the poor and underserved, 30(5), 12-20.
Chandler, R., Hernandez, N., Guillaume, D., Grandoit, S., Branch-Ellis, D., & Lightfoot, M. (2020). A Community-Engaged Approach to Creating a Mobile HIV Prevention App for Black Women: Focus Group Study to Determine Preferences via Prototype Demos. JMIR mHealth and uHealth, 8(7), e18437.
Chandler, R., Guillaume, D., Tesema, N., Paul, S., Ross, H., & Hernandez, N. D. (2020). Social and Environmental Influences on Sexual Behaviors of College Black Women: Within Group Diversity Between HBCU vs. PWI Experiences. Journal of Racial and Ethnic Health Disparities, 1-11.
Chandler, R., Hull, S., Ross, H., Guillaume, D., Paul, S., Dera, N., & Hernandez, N. (2020). The pre-exposure prophylaxis (PrEP) consciousness of black college women and the perceived hesitancy of public health institutions to curtail HIV in black women. BMC public health, 20(1), 1-11.
View all publications
Honors and Awards
2020: Health Disparities Scholar, NIH National Institutes on Minority Health and Health Disparities Loan Repayment Program
2019: Sisters with Superpowers, Rolling Out Magazine
2017: Rising Scholar in the field of sexuality by The Society for the Scientific Study of Sexuality
2017: Nominated Stony Brook University 40 under 40
2017: Fellow, Health Disparities Research Training Program, NCI U54 Cancer Partnership
2017: American Association for Cancer Research-Minorities in Cancer Research (MICR) Council, Minority & Minority Serving Institution Faculty Scholar in Cancer Research Award
2016: MundoHispanico Latinas Poderosas (Powerful Latinas in Atlanta) Award
2012: University of South Florida College of Public Health Student Research Scholarship Award
2012: American Public Health Association Latino Caucus Best Student Paper Award
2012: Greg Alexander Scholarship in Maternal and Child Health, University of South Florida
2012, 2011: University of South Florida College of Public Health Community and Family Health Travel Scholarship
2011: Public Health Student Association Travel Scholarship, University of South Florida