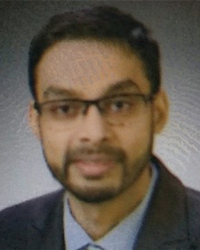 Education
MEDICAL SCHOOL
Mercer University School of Medicine, Macon, GA
Residency: Internal Medicine, Categorical


GRADUATE
Ross University School of Medicine
Degree: Doctor of Medicine


UNDERGRADUATE
Georgia Institute of Technology, Atlanta, GA

Emory University, Atlanta, GA
Research Interests
Omega-3 Fatty Acids and Psoriasis Systematic review Reviewed and summarized clinical trials from 1980 to present involving Omega-3 Fatty Acids in the treatment of Psoriasis.
Resident Fatigue Research Mercer University, Macon, GA Driving simulations pre and post call.
Monitor errors, and reaction times.
Collect saliva samples to monitor activity of inflammatory cytokines pre and post call.
Winthrop Cancer Institute Emory University, Atlanta, GA Breast cancer research.
Investigated reasons for increased aggressiveness of breast cancer in African American Women.
Preparation of histological slides of breast cancer tissue.
Honors and Awards
Clinical Instructor: Honorary appointment at Mercer University for excellence in teaching.