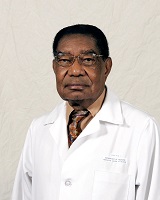 James W. Reed, M.D., MACP, FACE, FASH
Associate Chair of Research, Professor
Medicine

Chief
Endocrinology & Metabolism
Location: Piedmont Hall
Phone: 404-756-5788
E-mail: jreed@msm.edu
Education
MEDICAL SCHOOL:
Howard University College of Medicine
Degree: Doctor of Medicine
Research Interests
Type 2 Diabetes Mellitus and Hypertension
Clinical Interests
Diabetes and Hypertension
Specialties
Endocrinology & Metabolism

Clinical Hypertension
Board Certification
Endocrinology and Metabolism

Clinical Hypertension

Internal Medicine
Publications
Yadav V, Molina I, Ranathunge K, Castillo IQ, Rothstein SJ, Reed JW. ABCG Transporters Are Required for Suberin and Pollen Wall Extracellular Barriers in Arabidopsis. Plant Cell. 2014 Sep 12. pii: tpc.114.129049. PMID: 25217507

Liu N, Wu S, Van Houten J, Wang Y, Ding B, Fei Z, Clarke TH,Reed JW, van der Knaap E. Down-regulation of AUXIN RESPONSE FACTORS 6 and 8 by microRNA 167 leads to floral development defects and female sterility in tomato. J Exp Bot. 2014 Jun;65(9):2507-20. doi: 10.1093/jxb/eru141. Epub 2014 Apr 10. PMID: 24723401

Chae K, Isaacs CG, Reeves PH, Maloney GS, Muday GK, Nagpal P, Reed JW. Arabidopsis SMALL AUXIN UP RNA63 promotes hypocotyl and stamen filament elongation. Plant J. 2012 Aug;71(4):684-97. doi: 10.1111/j.1365-313X.2012.05024.x. Epub 2012 Jun 14. PMID: 22507274

Reeves PH, Ellis CM, Ploense SE, Wu MF, Yadav V, Tholl D, Chételat A, Haupt I, Kennerley BJ, Hodgens C, Farmer EE, Nagpal P, Reed JW. A regulatory network for coordinated flower maturation. PLoS Genet. 2012 Feb;8(2):e1002506. doi: 10.1371/journal.pgen.1002506. Epub 2012 Feb 9. PMID: 22346763

Lee DK, Van Norman JM, Murphy C, Adhikari E, Reed JW, Sieburth LE. In the absence of BYPASS1-related gene function, the bps signal disrupts embryogenesis by an auxin-independent mechanism. Development. 2012 Feb;139(4):805-15. doi: 10.1242/dev.077313. PMID: 22274700

Mitchell JE, Ferdinand KC, Watson KE, Wenger NK, Watkins LO, Flack JM, Gavin JR 3rd, Reed JW, Saunders E, Wright JT Jr. Treatment of heart failure in African Americans--a call to action. J Natl Med Assoc. 2011 Feb;103(2):86-98. PMID: 21443060


Click here to view publications.