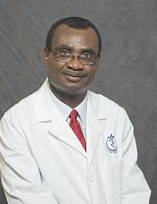 Francis Eko, Ph.D.
Professor
Microbiology, Biochemistry & Immunology

Location: Hugh Gloster Building 333
Phone: 404-752-1584
E-mail: feko@msm.edu
Education
GRADUATE:
University of Vienna
Degree: Doctor of Philosophy in Microbiology & Genetics


Research Interests
Dr. Eko's research focuses on vaccine development, vaccine delivery systems, animal models, evaluation and characterization of vaccine-induced innate and adaptive immune responses including the mechanisms by which protective immunity is generated. Dr. Eko developed the Vibrio cholerae ghost (VCG) vaccine and drug delivery platform. VCG are genetically derived, self-adjuvanting vibrio cell envelopes that maintain the native conformation of co-delivered antigens.

Some of the vaccines being tested include Vibrio cholerae and Shigella (as inactivated vaccine vectors), enteric vaccines, subunit and DNA vaccines. Dr. Eko's research group is currentlyusing the VCG platform in designing and testing subunit vaccines against Chlamydia trachomatis, C. abortus, HSV-2 and African trypanosomiasis. Research in Dr. Eko's lab is funded by grants from NIAID/NIH.
Publications
Ou, C, Tian,D, Ling,Y,Pan,Q, Eko, FO, and He, C. Evaluation of an ompA-based phage-mediated DNA vaccine against Chlamydia abortus in piglets. International Immunopharmacology 16: 505–510, 2013.

Igietseme JU, Omosun, Y, Partin, J, Goldstein, J, He, Q, Joseph, K, Ellerson, D, Ansari, U, Eko, FO, Bandea, C, Zhong, G and Black CM. Prevention of Chlamydia-induced infertility by inhibition of local caspase activity. J. Infect. Dis., 207 (7): 1095-104, Apr 2013.

Thumamo, BP, Asuquo AE, Abia-Bassey LN, Hill V, Zozio T, Emenyonu N, Eko FO, Rastogi N. Molecular epidemiology and genetic diversity of Mycobacterium tuberculosis complex in Cross River State, Nigeria. Infect Genet Evol. 12: 671-677, 2012.

Eko, FO, Okenu,DN, Singh, U, He, Q, Black, CM and Igietseme, JU. Evaluation of a broadly protective Chlamydia-cholera combination vaccine candidate. Vaccine, 29: 3802–3810, 2011.

Eko, FO, He, Q, Brown, T, Macmillan, L, Ifere GO, Ananaba, GA, Lyn, D, Lubitz, W, Kellar, KL, Black, CM, and Igietseme, JU. A novel recombinant multi-subunit vaccine against Chlamydia J. Immunol. 173:3375-3382, Sept 2004.

Eko, FO, Schhukovskaya, T, Lotzmanova, EY, Firstova, VV, Emalyanova, NV, Klueva,SN, Kravtzov, AL, Livanova, LF and Kutyrev, VV, Igietseme, JU and Lubitz, W. Evaluation of the Protective Efficacy of Vibrio cholerae Ghost (VCG) Candidate Vaccines in Rabbits. Vaccine, 21(25-26): 3663-3674, 2003.


Click here to view additional publications.
Honors and Awards
2010: CDC NCEZID Nakano Award for outstanding publication on Prevention and Control.

2010: CDC Charles C. Shepard Award for most outstanding peer-reviewed research paper

2008: UNESCO-ASM Visiting Resource Person, Institute of Pathology, ICMR, New Delhi, India.

2007: Paper published in FEMS Immunology and Medical Microbiology was cited in the Minority Scientists Section of the ASM Minority Newsletter for contribution to combination STD vaccine development.

2005: UNESCO-ASM Visiting Resource Person, Univ. of Agriculture Abeokuta, Nigeria.

1994: Dr. Sc. Thesis cited for Outstanding Contribution to Applied Biotechnology by the Austrian Society for Biotechnology.