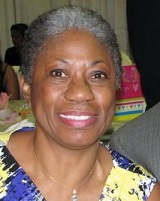 Jacqueline Hibbert, Ph.D.
Associate Professor
Microbiology, Biochemistry & Immunology

Location: Hugh Gloster Building
Phone: 404-752-1737
E-mail: jhibbert@msm.edu
Education
GRADUATE:
University of West Indies
Degree: Doctor of Philosophy in Human Nutrition & Metabolism

University of West Indies
Degree: Master of Science in Human Nutrition


UNDERGRADUATE:
University of West Indies
Degree: Bachelor of Science (General)
Research Interests
My primary research interest is in altered metabolism and nutritional requirements resulting from disease. Clinical and animal studies are performed to determine how protein/energy metabolism and immune response are altered in diseases, such as protein-energy malnutrition, obesity and sickle cell anemia. Methods include stable isotope tracers, RNA and protein assays.


The most recent research focus is to investigate nutritional implications of altered metabolism in sickle cell anemia (HbSS), a disease that is characterized by chronic hemolytic anemia and, hence, increased protein catabolism and re-synthesis directed toward red cell replacement. This causes a persistent drain on protein/energy substrates and likely nutrient shortage, particularly, of amino acids for vital growth and development. These observations suggest an increased dietary requirement to satisfy increased metabolic needs in HbSS, which has not been systematically investigated. The chronic hemolysis also induces inflammation, even among steady-state HbSS patients, presumably through sub-clinical injury of blood vessel membranes and transient vasoocclusive events. It is our hypothesis that increasing protein and energy recommended intakes for children with HbSS could help to decrease protein catabolism, promote normal growth and development and correct other metabolic abnormalities, such as chronic baseline inflammation. We are currently testing this hypothesis in the Berkeley transgenic sickle cell mouse model, with humanized sickle cell disease and translating the findings into clinical supplementation studies.
Publications
Khera PK, Smith EP, Lindsel CJ, Rogge MC, Haggerty S, Wagner DA, Palascak MB, Mehta S, Hibbert JM, Joiner CH, Franco RS, Cohen RM. Use of an oral stable isotope label to confirm variation in red blood cell mean age that influences HbA1c interpretation. Am J Hematol. 2014 Oct 8. doi: 10.1002/ajh.23866. PMID: 25293624

Manci EA, Hyacinth HI, Capers PL, Archer DR, Pitts S, Ghosh S, Patrickson J, Titford ME, Ofori-Acquah SF, Hibbert JM. High protein diet attenuates histopathologic organ damage and vascular leakage in transgenic murine model of sickle cell anemia. Exp Biol Med (Maywood). 2014 May 19;239(8):966-974. PMID: 24842894

Hyacinth HI, Capers PL, Archer DR, Hibbert JM. TNF-α, IFN-γ, IL-10, and IL-4 levels were elevated in a murine model of human sickle cell anemia maintained on a high protein/calorie diet. Exp Biol Med (Maywood). 2014 Jan;239(1):65-70. doi: 10.1177/1535370213508357. Epub 2013 Nov 26. PMID: 24281564

Hyacinth HI, Adams RJ, Voeks JH, Hibbert JM, Gee BE. Frequent red cell transfusions reduced vascular endothelial activation and thrombogenicity in children with sickle cell anemia and high stroke risk. Am J Hematol. 2014 Jan;89(1):47-51. doi: 10.1002/ajh.23586. Epub 2013 Nov 28. PMID: 23996496

Liu M, Wilson NO, Hibbert JM, Stiles JK. STAT3 regulates MMP3 in heme-induced endothelial cell apoptosis. PLoS One. 2013 Aug 13;8(8):e71366. doi: 10.1371/journal.pone.0071366. eCollection 2013. PMID: 23967200

Hyacinth HI, Gee BE, Adamkiewicz TV, Adams RJ, Kutlar A, Stiles JK, Hibbert JM. Plasma BDNF and PDGF-AA levels are associated with high TCD velocity and stroke in children with sickle cell anemia. Cytokine. 2012 Oct;60(1):302-8. doi: 10.1016/j.cyto.2012.05.017. Epub 2012 Jun 15. Erratum in: Cytokine. 2013 Apr;62(1):174. PMID: 22704695


Click here to view additional publications.