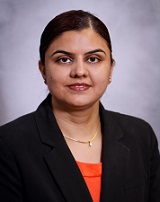 Punit Kaur, Ph.D.
Assistant Professor
Microbiology, Biochemistry & Immunology

Pathology and Anatomy
Location: Medical Education Building, 349B
Phone: 404-756-5795
E-mail: pkaur@msm.edu
Education
GRADUATE:
Postgraduate Institute of Medical Education and Research
Degree: Doctor of Philosophy in Experimental Medicine and Biotechnology

Guru Nanak Dev University
Degree: Master of Science in Microbiology

UNDERGRADUATE:
Punjab University
Degree: Bachelor of Science in Botany, Zoology and Chemistry
Research Interests
The goal of our lab is to research and develop heat shock protein-based therapies to be used alone or in combination with current therapies for the eradication of triple-negative breast cancer (TNBC). Recent studies on surface receptors and gene expression of breast tumors have come up with a term TNBC, creating a phenotype and disease quite distinct from that seen in HER2- or ER-positive breast cancers, which is a much more aggressive disease without tumor-specific treatment options. Cancer stem cells (CSC) are cancer cells with characteristics associated with normal stem cells; more specifically they possess the ability to give rise to all cell types found in a particular cancer sample. It is thought that conventional chemotherapies kill differentiated or differentiating cells, which form the bulk of the tumor but are unable to kill new cells. However, CSC forms a very small proportion of the primary tumor, which often remains unaffected by chemotherapy and causes a relapse of the disease. We will expose tumors to hyperthermic temperatures non-invasively using optically activated gold nanoshells in combination with radiotherapy (RT) and chemotherapy (CT). This combined therapy is termed the triple-modality approach. These studies are being performed in collaboration with Dr Sunil Krishnan (MD Anderson Cancer Center, Houston, TX). These studies utilize functional immunological approaches, genomics, proteomics, transgenic and knock out tumor animal models.

In addition, we will employ mass spectrometry for the high-throughput identification of proteins in complex mixtures. Disease biomarker discovery is one of the most vibrant and important areas of research today, as the identification of reliable biomarkers has an enormous impact on disease diagnosis, selection of treatment regimens, and therapeutic monitoring. Our group identified SERPINE 1 as a possible candidate protein of interest, which might be a link between obesity and diabetes via proteomic profiling of plasma samples from the patients. Our long term goal is to identify new classes of biomarkers using mass spectroscopy analysis in various types of cancer for early detection, prevention, or treatment of cancer, which serve as templates for future explorations and investments in the field of translational medicine and transform our understanding of human biology toward improved human health.

As an Editor-in-chief for Clinical Proteomics, a special peer-reviewed issue, which will be published in 2014 by Journal of Proteomics and Bioinformatics. This special issue covers scientific research in the field of translational proteomics with an emphasis on the application of proteomic technology to all aspects of clinical research including structural biology, mass spectrometry, protein arrays, bioinformatics, cell biology, signal transduction and physiology where the study relates to proteomics and publishes articles on a variety of subjects including clinical sample collection and handling to preserve proteins, new technology including protein arrays, microanalytic devices, nanotechnology, and biosensors for protein-based clinical bioassays and clinical chemistry assays.
Publications
Asea A, Jean-Pierre C, Kaur P, Rao P, Linhares IM, Skupski D, Witkin SS. Heat shock protein-containing exosomes in mid-trimester amniotic fluids. J Reprod Immunol. 2008 Oct;79(1):12-7. doi: 10.1016/j.jri.2008.06.001. Epub 2008 Aug 19. PMID: 18715652

Urueña CP, Cifuentes C, Castañeda DM, Arango AD, Kaur P, Asea AA, Fiorentino S. Petiveria alliacea extracts uses multiple mechanisms to inhibit growth of human and mouse tumoral cells. BMC Complement Altern Med. 2008 Nov 18;8:60. doi: 10.1186/1472-6882-8-60. PMID: 19017389

Kaur P, Hurwitz M, Zheng H, Nagaraja GM, Bausero MA, Manola J, Asea A. Radiation therapy induces circulating serum heat shock proteins in prostate cancer patients: Clinical findings and laboratory correlates. International J Radia Oncol Biol Phys 2008; 72 (1, Supplement): S63

Panossian A, Wikman G, Kaur P, Asea A. Adaptogens exert a stress-protective effect by modulation of expression of molecular chaperones. Phytomedicine. 2009 Jun;16(6-7):617-22. doi: 10.1016/j.phymed.2008.12.003. Epub 2009 Feb 1. PMID: 19188053

Zheng H, Nagaraja GM, Kaur P, Asea EE, Asea A. Chaperokine function of recombinant Hsp72 produced in insect cells using a baculovirus expression system is intact. J Biol Chem. 2010 Jan 1;285(1):349-56. doi: 10.1074/jbc.M109.024612. Epub 2009 Oct 27. PMID: 19861412


Click here to view additional publications.
Honors and Awards
2013: Journal Editorial Board Member "European Cancer Prevention (ECP) Organization"

2013: Journal Editorial Board Member "Journal of Proteomics & Bioinformatics"

2013: Journal Editor "Clinical Proteomics," special Issue for Journal of Proteomics & Bioinformatics

2012:Award for Excellence in Lectures and Practicals during the "Summer Research Program," July 5th - August 6th, 2012, Division of Investigative Pathology, Department of Pathology, Scott & White Hospital and Clinic, Temple, TX

2011: Co-session Chair, "Thermally Augmented Immuno-, Chemo- and Radio-sensitization," 28th Annual Society of Thermal Medicine (STM) Meeting, April 29th - May 2nd, 2011, New Orleans, LA

2010: Session Chair, "Targets of Immune Modulation by Thermal Therapy," April 26th,