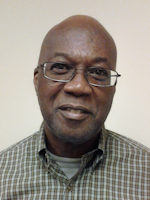 Education
GRADUATE:

University of California, San Diego
Degree:
Doctor of Philosophy in Biology
UNDERGRADUATE:
University of Alberto, Edmonton
Degree: Biochemistry
Research Interests
Male and Female Reproductive Biology

Genetic regulation of Circadian Rhythms

Cell cycle regulation

Molecular mechanisms regulating Meiosis and Mitosis
Publications
Chu L, Huo Y, Liu X, Yao P, Thomas K, Jiang H, Zhu T, Zhang G, Chaudhry M, Adams G, Thompson W, Dou Z, Jin C, He P, Yao X. The Spatiotemporal Dynamics of Chromatin Protein HP1α Is Essential for Accurate Chromosome Segregation during Cell Division. J Biol Chem. 2014 Sep 19;289(38):26249-62. doi: 10.1074/jbc.M114.581504. Epub 2014 Aug 7. PMID: 25104354

Chowdhury I, Thompson WE, Thomas K. Prohibitins role in cellular survival through Ras-Raf-MEK-ERK pathway. J Cell Physiol. 2014 Aug;229(8):998-1004. doi: 10.1002/jcp.24531. Review. PMID: 24347342

Chowdhury I, Thompson WE, Welch C, Thomas K, Matthews R. Prohibitin (PHB) inhibits apoptosis in rat granulosa cells (GCs) through the extracellular signal-regulated kinase 1/2 (ERK1/2) and the Bcl family of proteins. Apoptosis. 2013 Dec;18(12):1513-25. doi: 10.1007/s10495-013-0901-z. PMID: 24096434


Click here to view additional publications.