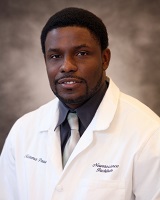 Ketema Paul, Ph.D.
Adjunct Professor
Neurobiology

E-mail: kpaul@msm.edu
Education
GRADUATE:
Georgia State University
Degree: Doctor of Philosophy in Biology

UNDERGRADUATE:
Howard University
Degree: Bachelor of Science in Biology
Research Interests
Genes, molecules, and hormones that influence sleep and wakefulness

Hypothalamic nuclei that regulate sleep promote and respond to the deleterious effects of extended wakefulness and stress in mice
Publications
Jefferson, F., Ehlen, J.C., Williams, N.S., Paul, K.N. (2014) A dopamine D2-receptor agonist attenuates the ability of stress to alter sleep in mice. Endocrinology. 155: 4411-21.

Ehlen, J.C., Benveniste, M., Brager, A.J., Pinckney, L., Jefferson, F., Paul, K.N. (2013) Period-amplitude analysis reveals wake-dependent changes during sleep deprivation. Sleep. 36: 1723-35.

Ehlen, J.C., Hesse S., Pinckney, L., Paul, K.N. (2013) Sex chromosomes regulate nighttime sleep propensity during recovery from sleep loss. PLoS ONE. 8: e62205.

Sompol, P., Liu, X., Baba, K., Paul, K.N., Tosini, G., Iuvone, P.M., Ye, K. (2011) N-acetylserotonin promotes hippocampal neuroprogenitor cell proliferation in sleep-deprived mice. Proc Natl Acad Sci. 108: 8844-8849.

Paul, K.N., Dugovic, C., Turek, F.W., Laposky, A.D. (2006) Diurnal sex differences in the sleep-wake cycle of mice are dependent on gonadal function. Sleep, 29: 1211-23.


Click here to view additional publications.
Honors and Awards
2013: Morehouse School of Medicine, Dean's Outstanding Research Award, Atlanta, GA
2012: Alpha Omega Alpha Honor Medical Society Outstanding Research Mentor Award, Atlanta, GA
2011: Faculty Mentor of the Year, Compact for Faculty Diversity Institute on Teaching and Mentoring, Atlanta, GA
2006: Faculty Research Fellowship, American College of Neuropsychopharmacology, Nashville, TN
2003: Neurobiology and Behavior Award, Georgia State University, Atlanta, GA