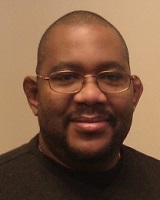 Todd E. White, Ph.D.
Assistant Professor
Neurobiology

Location: Multidisciplinary Research Center 237
Phone: (404) 752-1827
E-mail: twhite@msm.edu
Education
GRADUATE:
University of Florida College of Medicine
Degree: Doctor of Philosophy in Neuroscience

UNDERGRADUATE:
Harvard University
Degree: Bachelor of Arts in Biomedical Engineering


Research Interests
Traumatic Brain Injury

Gene Expression Patterns

Neuroprotection

Bioinformatics


Publications
White TE, Surles-Zeigler MC, Ford GD, Gates AS, Laplaca MC, Ford BD (2016). Bilateral gene interaction hierarchy analysis of the cell death gene response emphasizes the significance of cell cycle genes following unilateral traumatic brain injury. BMC Genomics 17:130. DOI: 10.1186/s12864-016-2412-0
Li Y, Lein PJ, Ford GD, Liu C, Stovall KC, White TE, Bruun DA, Tewolde T, Gates, AS, Distel TJ, Surles-Zeigler MC, Ford BD (2015). Neuregulin-1 inhibits neuroinflammatory responses in a rat model of organophosphate-nerve agent-induced delayed neuronal injury. Journal of Neuroinflammation 12:64. DOI:10.1186/s12974-015-0283-y.
White TE, Ford GD, Surles-Zeigler MC, Gates AS, Laplaca MC, Ford BD (2013). Gene expression patterns following unilateral traumatic brain injury reveals a local pro-inflammatory and remote anti-inflammatory response. BMC genomics 14:282.
White TE, Lane MA, Sandhu MS, O'Steen BE, Fuller DD, Reier PJ (2010). Neuronal progenitor transplantation and respiratory outcomes following upper cervical spinal cord injury in adult rats. Exp Neurol. 225(1):231-6.
Lane MA, White TE, Coutts MA, Jones AL, Sandhu MS, Bloom DC, Bolser DC, Yates BJ, Fuller DD, Reier PJ (2008). Cervical pre-phrenic interneurons in the normal and lesioned spinal cord of adult rat. J Comp Neurol 511(5): 692-709.
Velardo MJ, Burger C, Williams PR, Baker HV, Lopez MC, Mareci TH, White TE, Muzyczka N, Reier PJ. (2004) Patterns of gene expression reveal a temporally orchestrated wound healing response in the injured spinal cord. J Neurosci 24: 8562-8576.
Click here to view additional publications.
Honors and Awards
National Research Mentoring Network's NU Model Grantwriting Coaching Group

Specialized Neuroscience Research Program Postdoctoral fellowship

Route 28 Summit in Neurobiology, Novel Methods to Exploit Stem Cells for Recovery of Human CNS Function - Winning group member

Black Graduate Student Organization's (BGSO) Award for Outstanding Achievement

The Florida Education Fund's (FEF)Russell V. Ewald Award for Academic Excellence and Human Service

BGSO's Roderick J. McDavis Award for Academic Achievement

FEF's McKnight Doctoral Fellowship