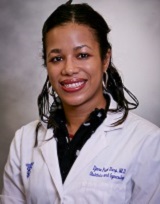 Djana Harp, M.D., MSCR, FACOG
Assistant Professor
Obstetrics & Gynecology

Location: Grady Hospital, Room 7B057
Phone: 404-616-5487
E-mail: dharp@msm.edu
Education
MEDICAL SCHOOL:
University of Chicago, Pritzker School of Medicine
Degree: Doctor of Medicine


GRADUATE:
Morehouse School of Medicine
Degree: Master of Science in Clinical Research


Research Interests
Oncofertility

Endometriosis

Angiogenesis
Board Certification
American Board of Obstetrics and Gynecology
Publications
Aykut Bayrak, Djana Harp, Peyman Saadat, Eliran Mor, and Richard J Paulson. (2006) Recurrence of hydrosalpinges after cuff neosalpingostomy in a poor prognosis population. Journal of Assisted Reproduction and Genetics. 23(6):285-8.

D Harp, I.Chowdhury (2011). Trichomoniasis: evaluation to execution. European Journal of Obstetrics and Gynecology: 157:3-9.

Indrajit Chowdhury, Minerva Garcia-Barrio, Djana Harp, Kelwyn Thomas, Roland Matthews, Winston E. Thompson (2011). The emerging roles of prohibitins in folliculogenesis. Frontiers in Bioscience (In press).


Click here to view additional publications.
Honors and Awards
2010: Research Award, Clinical and Translational Research Education Meeting

2011: ASCB: MAC 6th Annual Junior Faculty and Postdoctoral Fellows Career Development Award Workshop