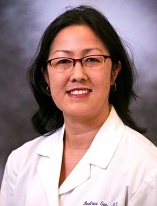 Beatrice Gee, M.D., FAAP
Associate Professor
Pediatrics

Interim Associate Director for Translational Science
Cardiovascular Research Institute
Location: Research Wing D1335
Phone: 404-756-1335
E-mail: bgee@msm.edu
Education
POSTGRADUATE:
Children's Hospital, Boston, MA
Residency: Pediatric

Children's Hospital and Dana Farber Cancer Institute, Boston, MA
Fellowship: Pediatric Hematology/Oncology

MEDICAL SCHOOL:
Tufts University School of Medicine
Degree: Doctor of Medicine

UNDERGRADUATE:
University of California
Degree: Bachelor of Arts in Physiology
Research Interests
Dr. Gee's lab focuses on dissecting mechanisms leading to cerebral artery stenosis in young children with sickle cell anemia. Children with sickle cell anemia at high risk for stroke have elevated levels of biomarkers of vascular remodeling, cerebral ischemia and activated coagulation. Red cell transfusion therapies reduce stroke risk and the levels of several of these biomarkers, suggesting that they may be involved mechanistically in the development of arterial stenosis and stroke. Identification of highly predictive stroke risk biomarkers will enable personalized medicine with earlier and accurate targeting of intensive therapies to children with sickle cell anemia who most need them.
Specialties
Sickle Cell
Hematology
Oncology
Board Certification
American Board of Pediatrics, Subspecialty in Hematology/Oncology
Publications
Hyacinth HI, Adams RJ, Voeks JH, Hibbert JM, Gee BE. Frequent red cell transfusions reduced vascular endothelial activation and thrombogenicity in children with sickle cell anemia and high stroke risk. Am J Hematol 2013 Aug 31. doi: 10.1002/ajh.23586.

Gee BE. Biologic Complexity in Sickle Cell Disease: Implications for Developing Targeted Therapies. The Scientific World Journal (2013) Mar 25;2013:694146. doi: 10.1155/2013/694146.

Hyacinth HI, Gee BE, Adamkiewicz TV, et al. Plasma brain derived neurotropic factor and platelet derived growth factor-AA levels are associated with high cerebral blood flow velocity and stroke in children with sickle cell anemia. Cytokine (2012) doi: 10.1016/j.cyto.2012.05.017.

Ofori-Acquah SF, Buchanan ID… Gee BE. Elevated Circulating Angiogenic Progenitors and White Blood Cells are associated with Hypoxia-Inducible Angiogenic Growth Factors in Children with Sickle Cell Disease. Anemia (2012), doi:10.1155/2012/156598

Asare K, Gee BE, Stiles JK, et al. Plasma interleukin-1β concentration is associated with stroke in sickle cell disease. Cytokine 2009; doi:10.1016/j.cyto.2009.10.002 Accepted for publication May 2009.

Driss A, Asare KO, Hibbert JM, Gee BE, et al. Sickle cell disease in the post genomic era: a monogenic disease with a polygenic phenotype. Genomics Insights on-line publication 2009; 2: 23-48 (accepted June 2009).

Click here to view additional publications.
Honors and Awards
2014-2011: Atlanta Top Doctor (Pediatric Hematology-Oncology), Castle Connolly and Atlanta Magazine

2011: Morehouse School Medicine Dean's Award for Outstanding Leadership

2011, 2010, 2006: Morehouse School of Medicine Teaching Awards

2008: Travel award: NIH Workshop on Vasculopathy in Sickle Cell Disease, Bethesda, MD

2008: Children's Healthcare of Atlanta and Hughes Spalding and Aflac Cancer Center and Blood Disorders Service, Service Award: Exceptional Leadership of the Sickle Cell and Hematology Program