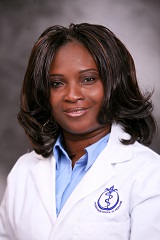 Juanita Carnes, Ph.D.
Assistant Professor
Pharmacology & Toxicology

E-mail: jcarnes@msm.edu
Education
GRADUATE:

Meharry Medical College
Degree:
Doctor of Philosophy in Pharmacology
UNDERGRADUATE:

Stillman College
Degree:
Bachelor of Science
Research Interests
Action of melatonin in regulating aqueous humor dynamics.


Publications
Dortch-Carnes J, Tosini G. Melatonin receptor agonist-induced reduction of SNP-released nitric oxide and cGMP production in isolated human non-pigmented ciliary epithelial cells. Exp Eye Res. 2013 Feb;107:1-10. doi: 10.1016/j.exer.2012.11.007. Epub 2012 Nov 29. PMID: 23201027

Russell-Randall KR, Dortch-Carnes J. Kappa opioid receptor localization and coupling to nitric oxide production in cells of the anterior chamber. Invest Ophthalmol Vis Sci. 2011 Jul 13;52(8):5233-9. doi: 10.1167/iovs.10-6613. PMID: 21666232

Dortch-Carnes J, Randall KR. Morphine-induced nitric oxide production in isolated, iris-ciliary bodies. Exp Eye Res. 2009 Nov;89(5):660-4. doi: 10.1016/j.exer.2009.06.007. Epub 2009 Jun 23. PMID: 19555685

Dortch-Carnes J, Russell K. Morphine-stimulated nitric oxide release in rabbit aqueous humor. Exp Eye Res. 2007 Jan;84(1):185-90. Epub 2006 Nov 13. PMID: 17094965

Dortch-Carnes J, Russell KR. Morphine-induced reduction of intraocular pressure and pupil diameter: role of nitric oxide. Pharmacology. 2006;77(1):17-24. Epub 2006 Mar 13. PMID: 16534251

Dortch-Carnes J, Potter DE. Bremazocine: a kappa-opioid agonist with potent analgesic and other pharmacologic properties. CNS Drug Rev. 2005 Summer;11(2):195-212. Review. PMID: 16007240


Click here to view additional publications.