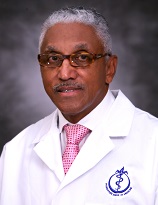 Nerimiah L. Emmett, Ph.D.
Assistant Professor
Physiology

Location: Medical Education Building C-346
Phone: 404-752-1679
E-mail: nemmett@msm.edu
Education
GRADUATE:
Atlanta, University, Atlanta, GA.
Degree: Doctor of Philosophy in Biology

Atlanta, University, Atlanta, GA.
Degree: Master of Science in Biology


UNDERGRADUATE:
Alabama A&M University, Normal, AL
Degree: Bachelor of Science in Biology
Research Interests
Focus is around the vasculature (blood vessels) and there intersection with the kidney in health and disease. Currently, the major focus area includes using genomic and proteomics to characterize how high dietary salt induces transcriptome changes in vascular smooth muscle cells (VSMC) of blood vessels.
Publications
Yu H, Zhou J, Takahashi H, Yao W, Suzuki Y, Yuan X, Yoshimura SH, Zhang Y, Liu Y, Emmett N, Bond V, Wang D, Ding X, Takeyasu K, Yao X. Spatial control of proton pump H,K-ATPase docking at the apical membrane by phosphorylation-coupled ezrin-syntaxin 3 interaction. J Biol Chem. 2014 Oct 9. pii: jbc.M114.581280. PMID: 25301939

Zhao X, Zhang Y, Leander M, Li L, Wang G, Emmett N. Altered expression profile of renal α1D-adrenergic receptor in diabetes and its modulation by PPAR agonists. J Diabetes Res. 2014;2014:725634. doi: 10.1155/2014/725634. Epub 2014 Mar 17. PMID: 24772448

Zhao X, Zhang Y, Li L, Mann D, Imig JD, Emmett N, Gibbons G, Jin LM. Glomerular expression of kidney injury molecule-1 and podocytopenia in diabetic glomerulopathy. Am J Nephrol. 2011;34(3):268-80. doi: 10.1159/000330187. Epub 2011 Aug 4. PMID: 21822010

Li L, Emmett N, Mann D, Zhao X. Fenofibrate attenuates tubulointerstitial fibrosis and inflammation through suppression of nuclear factor-κB and transforming growth factor-β1/Smad3 in diabetic nephropathy. Exp Biol Med (Maywood). 2010 Mar;235(3):383-91. doi: 10.1258/ebm.2009.009218. PMID: 20404057

Lyn D, Bao S, Bennett NA, Liu X, Emmett NL. Ischemia elicits a coordinated expression of pro-survival proteins in mouse myocardium. ScientificWorldJournal. 2002 Apr 11;2:997-1003. PMID: 12805954

Thierry-Palmer M, Tewolde TK, Forté C, Wang M, Bayorh MA, Emmett NL, White J, Griffin K. Plasma 24,25-dihydroxyvitamin D concentration of Dahl salt-sensitive rats decreases during high salt intake. J Steroid Biochem Mol Biol. 2002 Mar;80(3):315-21. PMID: 11948016


Click here to view additional publications.
Honors and Awards
NSF Academic Year Research Fellow (Biology)

Distinguished Alumnus, Alabama University; Normal, Alabama

Beta Kappa Chi

Atlanta University Center Biology Honor Society

MBS Research Trainee

MARC Research Fellowship