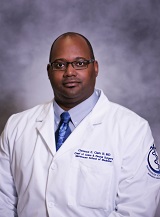 Clarence Clark, III M.D., FACS, FASCRS
Program Director
Associate Professor of Colon and Rectal Surgery
Surgery
Phone: (404) 616-1415
E-mail: cclark@msm.edu
Education
POSTGRADUATE:
University of Texas Health Science Center San Antonio
Training: General Surgery

Christus Santa Rosa Colon and Rectal Surgery Program in San Antonio
Training: Colon and Rectal surgery


MEDICAL SCHOOL:
Penn State College of Medicine
Degree: Doctor of Medicine


UNDERGRADUATE:
University of Pennsylvania
Degree: Bachelor of Arts in Biology
Research Interests
Inflammatory Bowel Disease

Benign and malignant colon and rectal disorders

Polyps/Polyposis

Anal cancer

Pelvic floor disorders

Benign anal disorders
Clinical Interests
Minimally Invasive Colorectal Surgery including Single Incision Laparoscopic Surgery
Board Certification
American Board of Surgery

American Board of Colon and Rectal Surgery.
Honors and Awards
Liasis L, Tierris I, Fotini L, Clark C, Papaconstantinou HT. Re: Traumatic abdominal wall hernia classifications. J Trauma Acute Care Surg. 2013 Sep.; 75 (3): 537.

Gales D, Clark C, Manne U, Temesgen S. The Chemokine CXCL8 in Carcinogenesis and Drug Response. ISRN Oncology. 2013.

Matthews LR, Danner O, YA A, Dennis-Griggs D, Frederick A, Clark C, Moore R, DuMornay W, Childs EW, Wilson KL. Combination therapy with vitamin d3, progesterone, omega 3-fatty acids, and glutamine reverses coma and improves clinical outcomes in patients with severe traumatic brain injuries: a case series of three patients. International Journal of Case Reports and Images. 2013.

Liasis L, Papaconstantinou HT, Tierris I, Clark CE. Ulcerative Colitis in Patient With Sickle Cell Disease: a Conspiracy of Nature that Turns Surgeon's Decision into a Challenge. Hellenic Journal of Surgery. 85:1 2013.

Liasis L, Tierris I, Lazarioti F, Clark CE, Papaconstantinou HT. Traumatic abdominal wall hernia. Is the treatment strategy a real problem? J Trauma Acute Care Surg. 2013 Apr; 74 (4):1156-62.

Clark CE, Walker T, Bacon L, McCoy J, Babaloa O. Staged suspension of an enteroatmospheric fistula: a novel surgical approach. American Surgeon. 2013 Apr; 79 (4): E139-40.


Click here to view additional publications.