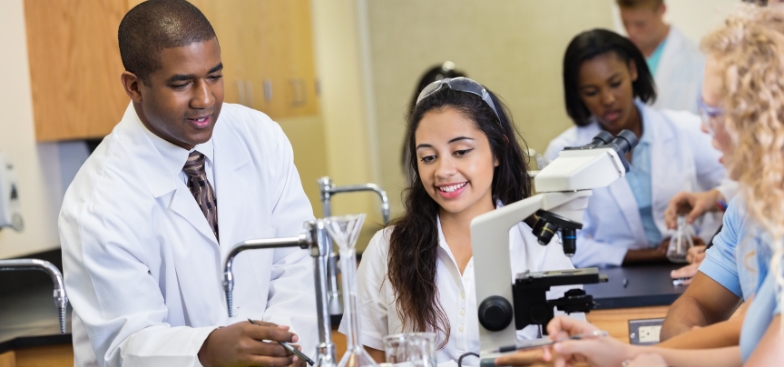 Health Sciences Teaching Certificate
*Applications for Fall Semester 2023 are now open
Morehouse School of Medicine is offering a certificate of completion in teaching to address the educator shortages in many professional health programs. The Health Sciences Teaching Certificate is an innovative, eLearning program geared toward students with an interest in both health equity and the science fields with an emphasis on gaining knowledge and skills for becoming an educator or trainer in their field. Program graduates are not only content experts, but also quality educators for the next generation of health industry professionals. It is our intention to develop better-trained educators to improve patient care and elevate the overall quality of healthcare in the U.S. in pursuit of health equity.
Teaching Certificate Overview
The teaching certificate is comprised of three fully online courses designed to be completed in four months. Each will be taught by experienced educators using innovative online educational technology to fully engage each learner. The three courses are:
Introduction to College Teaching and Course Design
Transforming Your Teaching for Effective Adult Learner Engagement
Creating Applied Assessments & Delivering Constructive Feedback
Learners will:
Examine research-based effective teaching techniques and tools to strengthen their skills as an educator.
Courses will specifically address ways to enhance instructor presence, integrate differentiated instruction based on learning styles, and promote the four types of student engagement including student to material, student to instructor, student to student, and student to self (self-reflective learning).
Review best practices in instructional design, development, and assessment of student learning outcomes.
Receive practical guidance for teaching and assessing students in applied settings using a process that is both rigorous and manageable.
Engage with theory, research and practices related to justice, diversity, equity, and inclusion issues in higher education.
All courses allow learners to investigate the concept of equity to create learning environments for all students that are free of bias, specifically designed to meet the needs of underserved populations, and provide the highest quality experience possible.
Learners will be invited to attend one synchronous (real time) sessions via Zoom for each course. Video replays will be made available.
The learner will experience various elements within each course, which may include one or more of the following:
Instructor video mini-lectures with interactive asynchronous discussion using Canvas Studio technology
Knowledge builders to boost understanding of a specific topic
Applied projects, including developing a new course or working to revise an existing course
Videos from education experts
Weekly faculty office hours held synchronously using video conferencing
Other features include:
A user-centric design following the core tenets of adult learning principles
eLearning to provide schedule flexibility
Interactive technology to engage participants and enhance retention
At the end of each course, participants will receive a grade percentage and will be asked to complete a course evaluation. To obtain the Health Sciences Teaching Certificate of Completion, students must maintain a combined grade percentage of 80% or higher in the certificate courses and complete an exit survey.
Cost

$5000.00
*Grants and loans are not available payment options for non-degree granting programs.
*MSM Faculty, Staff, and Students please contact Dr. Cheryl Houston for options regarding financial assistance.
When
Online Course Calendar 2023-2024


Start Date

Finish Date

Final Grades Posted

Fall 2023
(Terms I & II)

Monday, August 21

Saturday, October 14

October 18

Monday, October 16

Saturday, December 11

December 15

Spring 2024
(Terms I & II)

Tuesday, January 2

Saturday, February 24

February 28

Monday, February 26

Saturday, April 20

April 24

Summer 2024
(Terms I & II)

Monday, April 29

Saturday, June 22

June 26

Monday, June 24

Saturday, August 17

August 21

Fall 2024
(Terms I & II)

Monday, August 19

Saturday, October 12

October 16

Monday, October 14

Saturday, December 7

December 11
Deadlines
Spring 2024 Cohort
Early Decision deadline: October 1, 2023
Spring 2024 Applications open: August 1, 2023
Spring 2024 Applications close: November 15, 2023
Classes begin: January 2, 2024
* Learners must successfully complete all three courses to receive the Health Sciences Teaching Certificate
Admissions and Tuition Information
Minimum Academic Requirements
Baccalaureate degree preferred; Associate degree required from an accredited institution.
To apply, students must complete an online application that includes uploading:
A completed online application.
Resume or curriculum vitae.
One recommendation form completed.
Unofficial transcripts: Provide school where degree was awarded
An application fee of $50.