Prevention Research Center
The Prevention Research Center is one of a network of academic research centers funded by the Centers for Disease Control and Prevention to achieve local and national health objectives focused on gaining knowledge about the best methodologies for solving the nation's obstinate health problems.
MSM PRC is headed by the principal investigator and the center director with the associate center director, core research principal investigator, four assistant directors in the areas of community development, research, evaluation and cancer prevention, and a research administrator.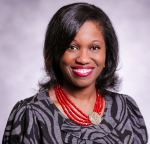 Tabia Henry Akintobi, PhD, MPH, is associate professor of community health and preventive medicine, associate dean of community engagement, and principal investigator and director of the Prevention Research Center.
Find information regarding upcoming PRC events and relevant prevention research and community news.
MSM PRC Featured on Focus Atlanta
Morehouse School of Medicine Prevention Research Center (MSM PRC) was featured on Focus Atlanta on Sunday, August 12, 2018. This episode highlighted the working relationship between MSM PRC and the Center's Community Coalition Board (CCB) and best practices with linking academic research with community leaders as a mechanism for environmental, systemic, and political change.