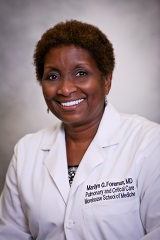 Education
POSTGRADUATE:
Channing Institute, Brigham and Women's Hospital, Harvard Medical School
Fellowship: Research/Clinical Fellow in Medicine; Respiratory, Environmental, and Genetic Epidemiology

R. A. Cowley Shock Trauma Center, University of Maryland
Fellowship: Critical Care Medicine

University of Missouri – Kansas City School of Medicine
Fellowship: Pulmonary Diseases


MEDICAL SCHOOL:
Meharry Medical College
Degree: Doctor of Medicine
Research Interests
My research focuses on chronic obstructive pulmonary disease (COPD), tobacco-related health disparities, and ethnic differences in the metabolism of nicotine as a contributor to smoking-related respiratory diseases, with an emphasis on African Americans. Temporal changes in tobacco smoking have been associated with variation in the prevalence of COPD over time. Smoking rates are higher in the socially disadvantaged, therefore it may be postulated that the prevalence of COPD will increase in U. S. minorities, particularly in African Americans who exhibit the tobacco paradox with higher mortality from some tobacco-related outcomes despite less intense and non-daily smoking.

In analyses of the COPDGene cohort, a 21-site multicenter trial, we have shown that early-onset COPD is associated with female sex, maternal factors, and African American race. We have also demonstrated that health related quality of life is worse in African Americans with COPD exacerbations, that specific comorbidities impact exercise capacity and dyspnea, and that symptoms are greater despite less radiographic emphysema, compared to other groups. We have also shown that higher-genetically-determined African ancestry is associated with lower lung function. These studies have substantial relevance to public health as there are high societal costs associated with COPD and COPD is an independent predictor for the development of lung cancer.


Specialties
Pulmonary

Critical Care Medicine
Board Certification
American Board of Internal Medicine

Pulmonary Disease

Critical Care Medicine
Publications
Hersh CP, Make BJ, Lynch DA, Barr RG, Bowler RP, Calverley PMA, Castaldi PJ, Cho MH, Coxson HO, DeMeo DL, Foreman MG, Han MK, Harshfield BJ, Hokanson JE, Lutz S, Ramsdell JW, Regan EA, Rennard SI, Schroeder JD, Sciurba FC, Steiner RM, Tal-Singer R, van Beek EJR, Silverman EK, Crapo JD, and the COPDGene and ECLIPSE Investigators. Non-emphysematous chronic obstructive pulmonary disease is associated with diabetes mellitus. BMC Pulm Med 2014 Oct 24;14(1):164 PMID: 25341556

Park SJ, Foreman MG, Demeo DL, Bhatt SP, Hansel NN, Wise RA, Soler X, Bowler RP. Menthol cigarette smoking in the COPDGene cohort: Relationship with COPD, comorbidities and CT metrics. Respirology. 2014 Oct 19. doi: 10.1111/resp.12421. PMID: 25328036

Criner GJ, Bourbeau J, Diekemper RL, Ouellette DR, Goodridge D, Hernandez P, Curren K, Balter MS, Bhutani M, Camp PG, Celli BR, Dechman G, Dransfield MT, Fiel SB, Foreman MG, Hanania NA, Ireland BK, Marchetti N, Marciniuk DD, Mularski RA, Ornelas J, Road JD, Stickland MK. Prevention of Acute Exacerbations of Chronic Obstructive Pulmonary Disease: American College of Chest Physicians and Canadian Thoracic Society Guideline. Chest. 2014 Oct 16. doi: 10.1378/chest.14-1676. PMID: 25321320

Hobbs BD, Foreman MG, Bowler R, Jacobson F, Make BJ, Castaldi PJ, Estépar RS, Silverman EK, Hersh CP; the COPDGene Investigators. Pneumothorax Risk Factors in Smokers with and without Chronic Obstructive Pulmonary Disease. Ann Am Thorac Soc. 2014 Oct 8. PMID: 25295410

Click here to view additional publications.
Honors and Awards
Regent-At-Large, American College of Chest Physicians (2014 - present)

Faculty of the Year, Internal Medicine Residency Program (2015)