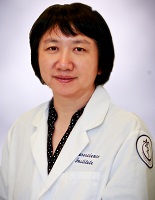 An Zhou, Ph.D.
Associate Professor
Neurobiology

Location: Multidisciplinary Research Center Room 239
Phone: 404-756-5722
E-mail: azhou@msm.edu
Education
GRADUATE:
Copenhagen University, Copenhagen, Denmark
Degree: Doctor of Philosophy
Research Interests
Protein actuators of neuronal stress response.

Protein biosynthesis, trafficking and secretion in neuronal and neuroendocrine cells

NeuroProteomics and Bioinformatics
Publications
Bian F, Simon RP, Li Y, David L, Wainwright J, Hall CL, Frankel M, Zhou A (2014) Nascent proteomes in peripheral blood mononuclear cells as a novel source for biomarker discovery in human stroke. Stroke. February 20: doi: 10.1161/STROKEAHA.113.004576 (PMCID: PMC3992918)

Simon RP, Meller R, Zhou A, Henshall D (2012) Can genes modify stroke outcome and by what mechanisms? Stroke. 43(1):286-91 (PMCID: PMC3282466)

Zhou A, David L, Simon, R (2011) Nascent proteomes of ischemic-injured and ischemic-tolerant neuronal cells. Int. J. Comput. Biol. Drug. Des. 4(1):40-55 (PMCID: PMC3249392)

Stowell C, Arbogast B, Cioffi G, Burgoyne C, Zhou A (2011) Retinal proteomic changes following unilateral optic nerve transection and early experimental glaucoma in non-human primate eyes. Exp. Eye. Res. 93(1):13-28 (PMID: 21530506/PMCID unavailable)

Stapels M, Piper C, Yang T, Li M, Stowell C, Saugsted JA, Xiong ZG, Simon RP, Geromanos S, Langridge J, Lan JQ, Zhou A (2010) Polycomb group proteins as epigenetic mediators of neuroprotection in ischemic tolerance. Sci. Signaling. 3 (111):ra15 (PMCID: PMC3878609)

Stowell C, Wang L, Aborgast B, Lan JQ, Cioffi GA, Burgoyne C, Zhou A (2010) Retinal proteomic changes under different ischemic conditions – implication of an epigenetic regulatory mechanism. Int. J. Physiol. Pathophysiol. Pharmacol. 2(2):148-160 (PMCID: PMC2926809)

Zhan S, Zhou A, Piper C, Yang T. Dynamic changes in proprotein convertase 2 activity in cortical neurons after ischemia/reperfusion and oxygen-glucose deprivation. Neural Regen Res. 2013 Jan 5;8(1):83-9 (PMCID:PMC4107496)


Click here to view additional publications.
Honors and Awards
Active Awards NIH/NINDS R01 Grant (#NS073832-01A1)
Role: PI
Title: Polycomb group proteins as epigenetic mediators of brain ischemic tolerance

NIH/NINDS U54 Subproject (1U54NS083932-01)
Role: Co-Investigator (Project PI: Xiong, Zhigang, M.D., Ph.D.)
Title: ASIC1A-activated signaling pathways in neurons

NIH/NINDS U54 (1U54NS083932-01)
Role: Co-Director of Molecular Biology and Cell Core (Project Leader: MacLeish, Peter, Ph.D.)
Title: Morehouse School of Medicine SNRP