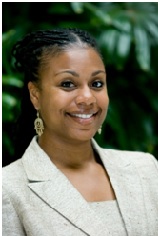 Kisha Holden, Ph.D., M.S.C.R.
Deputy Director
Satcher Health Leadership Institute

Associate Professor
Psychiatry & Behavioral Sciences
E-mail: kholden@msm.edu
Education
POSTGRADUATE:
Johns Hopkins University
Fellowship: Mental health disparities and health policy


GRADUATE:
Howard University
Degree: Doctor of Philosophy in Counseling Psychology

Morehouse School of Medicine
Degree: Master of Science in Clinical Research

Howard University
Degree: Master of Arts in Counseling Psychology



Research Interests
I have dedicated my career to encouraging mental health and well-being among ethnically and culturally diverse families through research, programmatic initiatives, practice and the development of innovative strategies for informing mental health policies. I have placed special emphasis on addressing the needs of underserved and underrepresented populations that are often overlooked, yet prevail in contributing to the myriad of health and mental health disparities. My current positions as Director for Community Voices: Healthcare for the Underserved, Associate Professor of Clinical Psychiatry and Behavioral Sciences, Interim Research Director for the Satcher Health Leadership Institute at Morehouse School of Medicine affords me the opportunity to (1) promote excellence in community-based clinical and translational mental health research, (2) develop programs that improve the accessibility of individuals to comprehensive healthcare, and (3) develop culturally centered and gender-specific prevention and intervention strategies relative to individuals at risk for depression.
Publications
Holden, K. McGregor, B., Thandi, P., Sheats, K., Belton, A., Fresh, E. Mattox, G, and Satcher, D. (2014/in press). Toward Culturally Centered Integrated Care for Addressing Mental Health Disparities among Ethnic Minorities. Psychological Services.

Holden, K., Bradford, D., Hall, S., and Belton, A. (2013). Prevalence and Correlates of Depressive Symptoms and Resiliency among African American Women in a Community Based Primary Healthcare Center. Journal of Healthcare for the Poor and Underserved, 24 (4), 79-93. PMC4020280

Shim, R., Bradford, D., Holden, K. et al. (2013). Characterizing Depression and Co-morbid Medical Conditions in African American Women in a Primary Care Setting. Journal of the National Medical Association. Journal of the National Medical Association, 105 (2), 183-191. PMC4039195

Holden, K., Hall, S., Robinson, M. et.al. (2012). Psychosocial and Socio-cultural Correlates of Depressive Symptoms among Diverse African American Women. Journal of the National Medical Association, 104 (11&12), 493-503. PMC3660963

Holden, K., McKenzie, R., Pruitt, V., Aaron, K., and Hall, S. (2012). Depression, substance abuse, and intimate partner violence among ethnically diverse pregnant women. Journal of Healthcare for the Poor and Underserved, 23, 226-241. PMC3401533

Holden, K., McGregor, B., Blanks, S., and McHaffey, C. (2012). Psychosocial, Socio-cultural, and Environmental Influences on Mental and Behavioral Health Help-Seeking among African-American Men. Journal of Men's Health, 9(2), 63-69. PMC3418821

Nemiary, D., Shim, R., Mattox, G and Holden, K. (2012). The relationship between obesity and depression among adolescents. Psychiatric Annals, 42 (8), 305-308. PMC3749079
Honors and Awards
2014: Association of American Medical Colleges Mid-Career Women Faculty Professional Development Fellowship

2013: American Psychological Association, Division on Women, Carolyn Payton Early Career Award

2011: Association of American Medical Colleges Early Career Women Faculty Professional Development Fellowship

2010-2009: American Psychological Association Early Career Minority Faculty Fellowship

2009-2008: NIMH African American Mental Health Research Scientist Fellowship