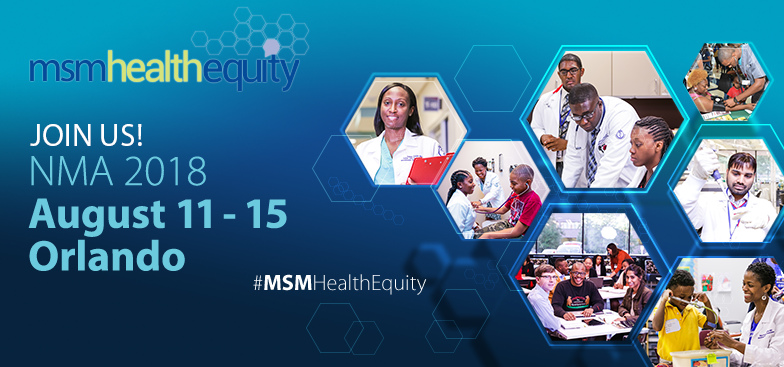 Morehouse School of Medicine at the NMA Convention

#MSMatNMA2018

2018 Annual National Medical Association (NMA) Convention and Scientific Assembly
August 11-15, 2018
The National Medical Association (NMA)'s Annual Convention and Scientific Assembly is acclaimed as the nation's foremost forum on medical science and African-American health. Each year, African-American physicians and other health professionals from across the country convene to participate in the scholarly exchange of medical advances, discuss health policy priorities, and to share experience through networking opportunities. Through NMA's 26 Scientific Specialty Sections and Interest Groups, the Convention attracts the broadest spectrum of African-American physicians, academicians and scientists in the country. The program opens on Saturday, August 11, with special sessions and workshops, and continues through Wednesday, August 15.
Attending the 2018 NMA Convention?
In preparation for the 2018 National Medical Association (NMA) Convention, help us inform the MSM community of your role in this year's convention by completing this registration information form.
---
Event Schedule
Saturday, August 11th
Edward C. Mazique, M.D., Symposium
12:30 p.m. – 3:00 p.m.
Location: Rosen Shingle Creek Resort Center (Room TBD)

NMA Opening and Award Session
6:30 p.m. – 8:30 p.m.
Location: TBD
Sunday, August 12th
Council on Concerns of Women Physicians Awards Session
12:00 p.m. – 2:00 p.m.
Location: TBD
MSM Welcome Reception
6:00 p.m. – 8:00 p.m.
Location: Cala Bella Shingle Creek, 9939 Universal Boulevard, Orlando, Florida 32619
Monday, August 13th
MSM Alumni Reception & Dinner
6:00 p.m. – 9:00 p.m.
Location: The Rosen Shingle Creek Resort (The Sebastian Ballroom L 1 & 2)
Tuesday, August 14th
President's Installation
6:00 p.m. – 7:30 p.m.
Location: TBD
The President's Ball
8:00 p.m. – 12:00 a.m.
Location: TBD
Wednesday, August 15th
The Satcher Health Leadership Institute Symposium: Empowering Communities to Create Health
11:00 a.m. – 1:00 p.m.
Location: TBD