2014 Scholars 2015 Scholars
Atlanta Sickle Cell Summer Research Training Program
The Atlanta Sickle Cell Summer Research Program, sponsored by the Excellence in Hemoglobinopathies Research Award from the National Heart, Lung and Blood Institute (NHLBI) of the National Institutes of Health (NIH), and conducted in collaboration with Morehouse School of Medicine (MSM), is an outstanding science training opportunity for high school students. The program is designed to involve young people from groups under-represented in health professions and biomedical sciences in cutting-edge scientific research conducted in an academic medical center and to cultivate a continued interest in research related to sickle cell disease.
| | |
| --- | --- |
| Application website opens: | February 1 |
| Application deadline: | Extended to April 8 |
| Program dates: | May 30 – July 20, 2018 |
Program Details

This seven-week program offers a chance to learn, explore, and gain hands-on experience in a medical center research laboratory environment for up to four students each summer. Each student will be assigned to a faculty mentor and work in his or her laboratory. Faculty mentors have active sickle cell research labs and are located at Emory University, MSM and Georgia Institute of Technology. Students will be assigned mini-research projects or work with laboratory staff on ongoing research. Those students who complete sufficient research in one or more summers will be encouraged to present at local or national scientific meetings and may contribute to papers published in peer-reviewed scientific journals. Fellowships begin with an orientation in early June and last for seven weeks. At the end of the program, students will give an oral presentation of their research projects.
Hours of Operation: Monday – Friday, 9:00 a.m. – 4:00 p.m.

Eligibility and Selection Criteria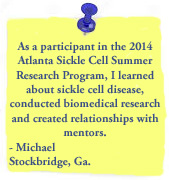 Current high school students who are members of under-represented minority groups or disadvantaged backgrounds may apply. Students must be at least 16-years-old on June first of the year that they participate. While students from outside the greater Atlanta area may apply, we are unable to provide or assist with housing, meals, or transportation for the program. Selection of students will be based on the following criteria:
Overall academic achievement, as evidenced by the transcript and GPA, and success in rigorous science coursework -- such as AP laboratory science classes or the equivalent
Letters of recommendation from teachers and or counselors
Interest in, aptitude for and commitment to the sciences, as evidenced by extracurricular involvement, the application essay, and letters of recommendation
Finalists will be invited for 30-minute interviews with program faculty beginning in April.
Application Process
Complete the online application for the Atlanta Sickle Cell Summer Research Program and essay by the online application deadline. We are unable to accept hand-delivered applications.


The essay should have a maximum length of 500 words and explain why you wish to participate in the program. Be sure that your name appears at the top of the essay. Please address one or more of the following topics:


Experiences that have contributed to or shaped your interest in science
Your goals for your summer in the program
The strengths as a scientist and/or as a person you would bring to the program
Your future educational and/or career plans



Request two confidential recommendations from teachers and/or a counselor, including at least one from a science teacher. Recommendations must be submitted directly by the recommender or your high school office by the April 6, 2018, postmark deadline in a sealed envelope signed across the flap by the recommender. We prefer that transcripts and recommendations be mailed together, if possible.

Please complete the first part of each recommendation form for your recommenders. They may complete the form or attach a separate letter. Be sure to let them know if they should return the recommendation to the school office or mail it themselves. Please provide them with an envelope (stamped and addressed if they will mail directly; otherwise, please label with your name and the program name).


Arrange for an official transcript to be mailed by the April 6, 2018,

postmark deadline. We prefer that the recommendations and transcript be mailed together, if possible.


Approximately 10 applicants will be invited for 30-minute personal interviews beginning in April.


Successful applicants will be notified by May 14, 2018.
Contact

Beatrice E. Gee, M.D.
Professor of Pediatrics
Morehouse School of Medicine
720 Westview Drive SW
Atlanta, GA 30310
Phone: 404-756-1335
Fax: 404-756-1357
Email: bgee@msm.edu


2016 Scholars