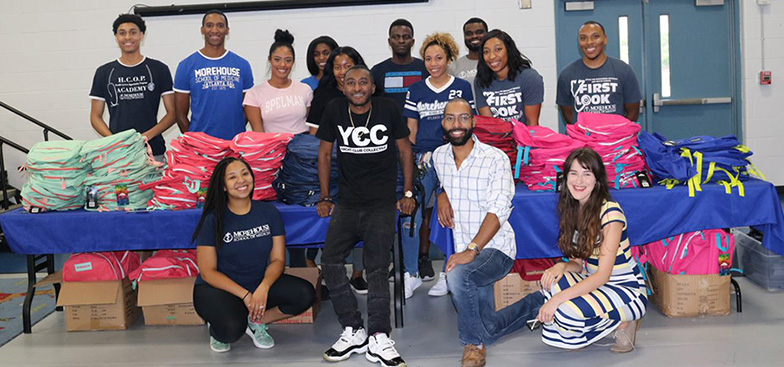 MSM Students Supply Kids at Scott Elementary with Tools to Start the School Year Off Right
On a hot and humid summer Saturday afternoon, about a dozen or so Morehouse School of Medicine students get ready to welcome hundreds of young children in the Bankhead neighborhood of Atlanta. The students set up a bounce house, get the face painting station ready, and prepare to serve up hundreds of burgers, ice cream cones and other treats.
But the main draw at Scott Elementary School on Aug. 17 is the tables stacked neatly with backpacks of all different colors. Some 500 bags. Each one filled with notebooks, pencils, and other supplies these young learners need to do their best in the recently started school year.
"Growing up in the inner city of Atlanta sparked a burning passion within me to serve my community," said first-year medical student Artesse Conley. "I think it is pertinent that we as individuals lift up others as we climb."
Conley put together the Back to School Drive through his group the Yacht Club Collective, which looks to spread positivity and love throughout the community. This was the first year for the drive, but based on the turnout, Conley expects the event to continue year after year.
"Overall the event was a success and truly made an impact on the lives of not only the children, but the volunteers that day as well," said Conley.
A little girl with pigtails and a flower painted on her cheek walks up to the table where a volunteer from Morehouse College is standing. There's one bag that catches her eyes. A light green one with pretty pink zippers and bows. The volunteer hands her the bag. Her mouth opens wide in excitement as she reaches to get the bag she wanted. The young man can't hide his smile either.