Morehouse School of Medicine Features
Stories highlighting the activities and research of Morehouse School of Medicine (MSM) departments, faculty and students as they fulfill the school's mission to create and advance health equity.


Dr. Veena Rao: Demystifying BRCA1 in African-American Women to Save Lives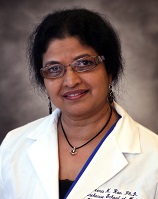 Morehouse School of Medicine (MSM) physicians, faculty and students are engaged in an intense and mission-driven quest to solve answers to some of the world's most pressing cancer-related questions. One specific group of African Americans is driving MSM professor and co-director of the Cancer Biology Program in the OB/GYN department Veena Rao, Ph.D., who has spent the better part of her scientific career trying to understand the BRCA1 gene and its mutations in order to facilitate early detection and achieve novel treatment breakthroughs for women with breast cancer. Research she and her team are conducting has the potential to not only change lives, but save lives.
Click here to read more ...