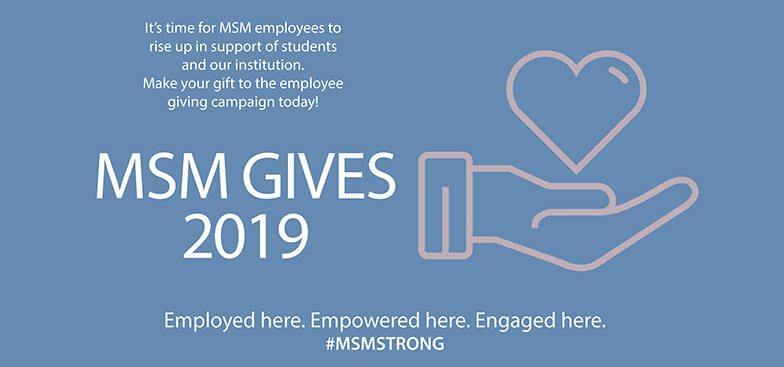 Faculty & Staff Giving Program
The success of Morehouse School of Medicine is dependent upon the participation of many, including our valued
faculty and staff. As MSM family, you support initiatives and programs through your daily contribution of time, talent, and expertise. For this, we are immensely appreciative and grateful.
Regardless of size, your gift counts you among those who don't just say they believe in MSM and its mission - they
show it. Your participation can support any area you choose and will continue to transform MSM into a premier health sciences institution.
As MSM employees, you commit yourselves every day to making MSM a more vital institution. At the same time, your financial contributions allow MSM to continue its mission to be a comprehensive student-centered research university.

Your gifts:
Have a huge impact on students through scholarship support
Make you a part of nationally recognized research programs
Support various programs like our pipeline programs and events such as the HeLa Conference
Whatever the reason and whatever the designation, faculty and staff gifts to MSM speak volumes about MSM as a place for philanthropic investment and show your pride in our institution.
Making a gift provides an opportunity for MSM employees to help enhance the quality of the MSM's programs through their financial contributions. Employees can direct their gifts to the college, campus, or program of their choice through a payment option that works best for them, including payroll deduction.
Ways to Give
To make a gift, please download the contribution form. There are several convenient payment options—simply choose the one that is best for you. In addition to the typical ways to give through check or credit card, employees can set up a regular payroll deduction.

Download the contribution form here >
Payroll Deduction

This is an easy, convenient way to spread your gift out over multiple, ongoing payments. Click here to go to our payroll deduction page and download a contribution form.

Click here to give online. Giving to MSM online is safe, secure, and convenient.

Check or Credit Card

Return the contribution form when you receive your faculty and staff fundraising appeal or any other Morehouse School of Medicine Annual Fund appeal.

Gift Planning

Learn how to earn income, pay fewer taxes, secure your retirement, enhance your net estate, create a personal legacy, or get more from your real estate.