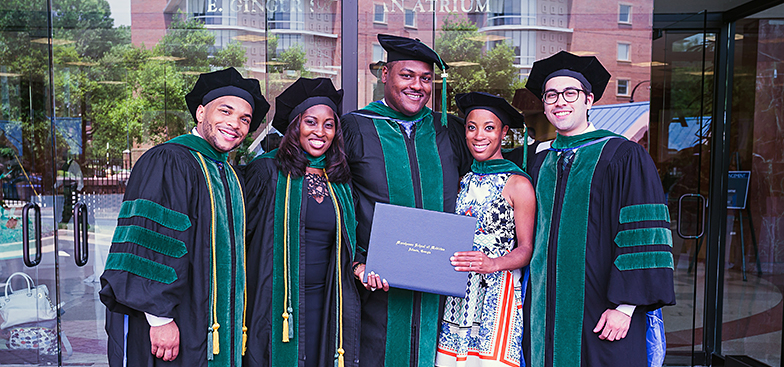 Why Give to MSM?
We've come so far. And we're just getting started.

The critical question is: What will our future yield - and what will we have done to impact it? With all our success, there are compelling challenges and shifting landscapes that are outpacing our ability to tackle health disparities alone. Crippling social and behavioral factors. A relatively new health care law. A technology and data explosion. Changing demographics. People are reassessing their values, reordering priorities, embracing community, and looking to science and medicine to extend and improve the quality of life.

There is a critical need. A need to address health disparities across minority populations and socioeconomically
disadvantaged communities. Closing these gaps will require us to adapt. To lead with a bold vision. To build meaningful partnerships. To increase our endowment. To champion the innovative and forward-thinking models that allow every person the access and resources he or she needs to be healthy.

That's why we are here. To be an abundant solution for an abundant need. Your generous support means the world to us as we continue to answer the call.

We are here for a reason. But we can't do it alone.

To assist us with the opportunity cost of empowering unmet human potential, we respectfully request of you an
investment gift. In turn, we offer the opportunity to make enduring and substantial differences now and for
generations to come. They are backed by our pledge of long days of hard work, in support of a belief and in pursuit of establishing a level playing field on which all those who are willing to struggle and strive in service of others can prevail.

An institution's ability to claim what it might do is only as credible as what it can demonstrate it has done. Morehouse School of Medicine can point to its efforts over the last forty years and claim, without qualification, that no other institution is better prepared, poised, or positioned to create such a comprehensive and productive human development program. The past has prepared us in unique ways; the present calls us to address persistent inequities; and the future places its hopes in us. No institution is in a stronger position to ask, "If not us, who? If not now, when?" We know of no other donor possessing the foresight to see this potential and to push us to rise to the challenge.

We can, we will, we must make this happen … with your gracious support.
Giving to MSM