We're proud to announce the Fall 2019 release of Primarily Caring (Issue I, Volume I), the official magazine of Morehouse School of Medicine.
Primarily Caring not only highlights the work underway at Morehouse School of Medicine through our brilliant faculty, students, and staff but also grapples with the tough challenges we face in our health care system. We hope it inspires, motivates, and informs, but above all, we hope it challenges each of us to strive to be primarily caring in all we do."
Valerie Montgomery Rice, President and Dean, Morehouse School of Medicine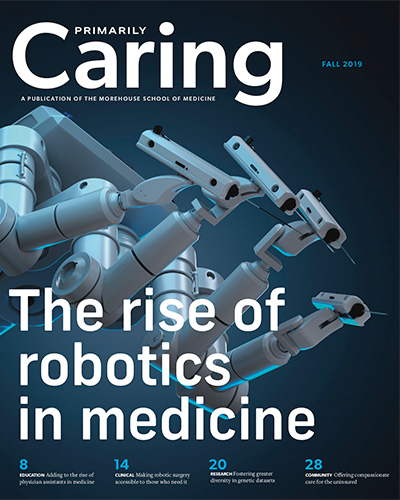 Primarily Caring MSM Magazine - Fall 2019
Featuring the rise of robotics in medicine, adding to the rise of physician assistants in medicine, fostering greater diversity in genetic datasets, and offering compassionate care for the uninsured.
View Fall 2019, Issue I, Volume I |
---
Join Mailing List
Are you interested in joining the MSM Magazine mailing list? Complete the form below.
For more information, please email: PrimarilyCaring@msm.edu.
This publication was funded in part by Title III.