35th Fall Convocation
—

White Coat & Pinning Ceremony

Fall Convocation is one of only two occasions that bring together the Morehouse School of Medicine President and Dean, Board of Trustees, academic and institutional leadership, faculty and alumni in a formal academic setting focused entirely on students. The other, of course, is graduation, commencement. These bookend events – one for those just arriving, the other for those departing – represent the academic circle of life.

At MSM, Convocation recognizes and celebrates the incoming class of students, and serves as the official kickoff of the new academic year. It is a pivotal time and transformational experience for the first-year students who represent our Doctor of Medicine, Physician Assistant Studies, Graduate Education in Biological Sciences and Master of Public Health programs.

Included in the proceedings is the time-honored tradition of the White Coat and Pinning Ceremony. Incoming MPH students receive blue blazers and pins symbolizing their entrance into a field dedicated to protecting the public health and welfare of our communities. First-year MD and – this year, for the first time ever – Physician Assistant students receive their white coats, and GEBS students are fitted with their lab coats as symbols of the trust bestowed upon them as they carry on the noble traditions of medicine and science. GEBS students also receive pins.

We hope you will be able to join us as we welcome another generation of learners who soon will be leading the creation and advancement of health equity.
Schedule of events
New student welcome reception
Thursday, Sept. 19, 4:30 p.m. – 5:30 p.m.
Location: E. Ginger Sullivan Atrium, Louis W. Sullivan National Center for Primary Care
Fall Convocation — White Coat and Pinning Ceremony
Friday, Sept. 20, 10 a.m. – noon
Location: Auditorium, Louis W. Sullivan National Center for Primary Care. Reception follows immediately afterward in the atrium.
Parking will be limited. For additional parking information, please view parking information below.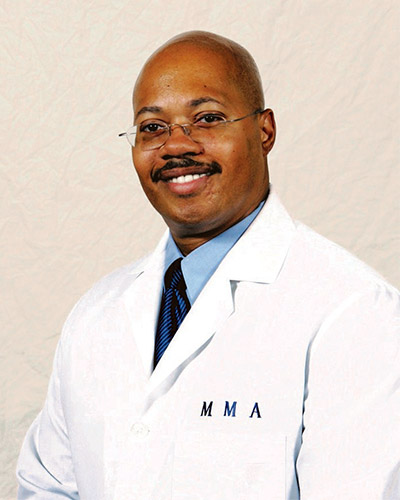 Franklyn Geary Jr.
Our Convocation Speaker
Franklyn Geary Jr., MD, FACOG
Residency Program Director and Professor
Department of Obstetrics and Gynecology
Dr. Geary credits his mother for his love of teaching and his father for his compassion. The native Atlantan is professor in Morehouse School of Medicine's Department of Obstetrics and Gynecology and double-board certified in General Obstetrics and Gynecology and in Maternal Fetal Medicine.
Following graduation from Atlanta Public Schools, Dr. Geary earned a BA degree in Chemistry from Emory College of Emory University. While at Emory, he actively participated in organizations such as Mortarboard, Omicron Delta Kappa Honor Society, Pi Alpha Chemical Fraternity, Eta Sigma Phi Latin Fraternity, the Black Student Alliance, and the Emory Senior Society. He was elected in Who's Who Among American Colleges and Universities. He is a charter member of Emory's first black Greek organization, Alpha Phi Alpha Fraternity, founded March 27, 1976. Read full bio pdf
MSM Learning Communities
All incoming students are grouped into learning communities, student-led and mentor-facilitated educational sessions that take place in a supportive team environment.
Making a Commitment
As they take the next step in their journey to becoming physicians, scientists, researchers, public health leaders and other health professionals, our entering students make a verbal commitment during the ceremony, dedicating themselves to upholding the highest professional and ethical standards.
Click title to view full pledge
---
Parking Alert!
Due to our rapid growth and associated construction projects, on-campus parking is extremely limited at this time, particularly on weekdays when classes and regular campus operations are under way. We highly recommend that students and their families carpool to Convocation, use public transportation—the closest MARTA stop is the West End station—or take a rideshare service such as Lyft or Uber.
The parking garage entrance is located on Lee Street. Visitors with mobility considerations may be dropped off and picked up at the Westview Drive entrance/NCPC circle drive. Police officers will be directing traffic to the appropriate campus parking locations. If necessary, visitors will be directed to overflow parking available in the Morehouse College parking garage, 830 Westview Dr SW, a brief walk from the MSM campus. The college is graciously waiving the normal visitors parking fee for our guests at this event.