Ho'omaika'i 'ana: MSM Brings Home National Medical Association Honors
Morehouse School of Medicine was front and center at the National Medical Association Annual Convention and Scientific Assembly in Honolulu, HI, garnering multiple prestigious awards at the nation's foremost forum on medical science and African American health.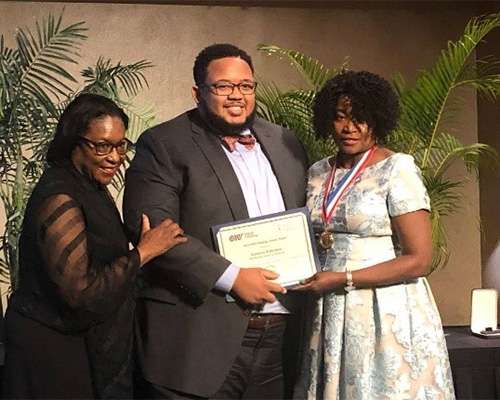 Kamron Robinson, Class of 2021 MD candidate, received a 2019 NMA Emerging Scholars Award, the highest academic honor presented to students by NMA. It recognizes academic achievement, leadership and potential for distinguished contributions to medicine.
Kamron began his MSM education in the Master of Science in Medical Sciences program, before entering the MD program. Read more about his journey.
---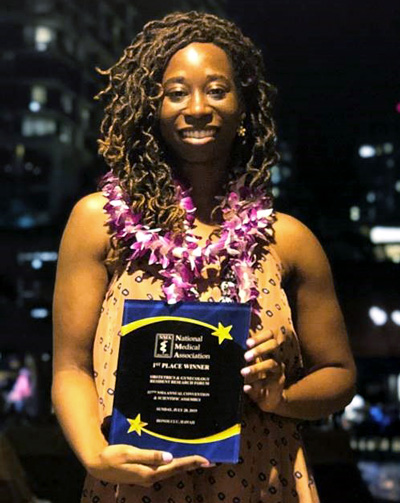 Gail Ohaegbulam, MD, a third-year resident in the Department of Obstetrics and Gynecology, won first place in the OBGYN Resident Research Forum based on her research, "Availability of Breastfeeding/Pumping Facilities in Georgia Public High Schools."
Dr. Ohaegbulam is a graduate of the University of South Florida Morsani College of Medicine and serves as secretary/treasurer of the MSM Resident Association.
---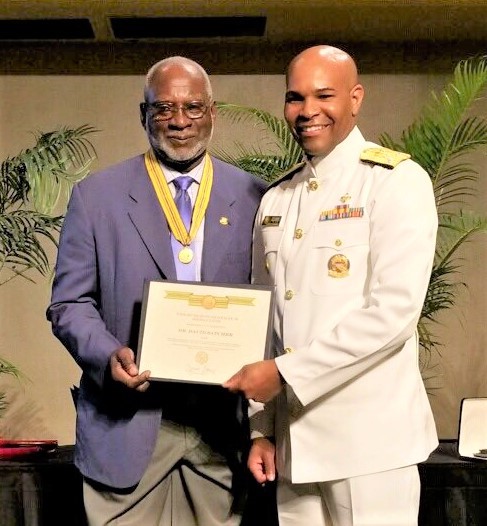 David Satcher, MD, PhD, the 16th U.S. Surgeon General, founding director and senior advisor of the Satcher Health Leadership Institute and fourth president of Morehouse School of Medicine, received the Surgeon General's Medallion from current Surgeon General Jerome Adams.
The Surgeon General's Medallion is the third highest award of the Public Health Service and the United States Public Health Service Commissioned Corps. It is presented in recognition of exceptional achievement to the cause of public health and medicine.
---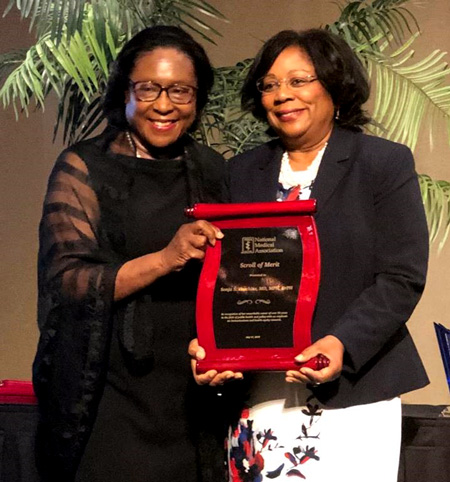 Sonja Hutchins, MD, MPH, DrPH, FACPM, was awarded the 2019 Scroll of Merit Award, NMA's highest merit honor, presented to individuals or organizations in recognition of preeminent efforts and contributions in medicine, health advocacy or service to the NMA.
Hutchins, director of MSM's Health and General Preventive Medicine Program and professor in the Department of Community Health and Preventive Medicine, is a highly respected and experienced physician, beginning her three-decade career in 1983 when she graduated from the Icahn School of Medicine at Mount Sinai in New York. A retired captain in the U.S. Public Health Service who served as medical director at the Centers for Disease Control, Hutchins has dedicated her life to delivering compassionate care for individuals and populations, continuously working to enhance her patients' quality of life and provide high quality, individualized care.
---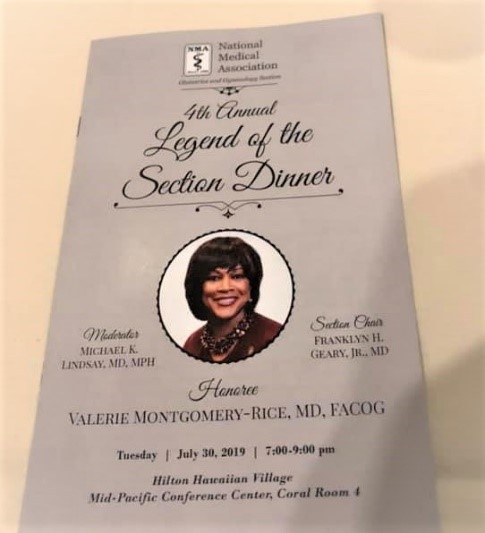 Last but certainly not least, the OBGYN Section of the NMA – chaired this year by MSM's own Franklyn Geary Jr., MD, FACOG – honored MSM President and Dean Valerie Montgomery Rice, MD, FACOG, with the Legend of the Section Award.
"I can't express what this honor means to me," Dr. Montgomery Rice said. "I'm glad my Morehouse School of Medicine, Emory University, and Wayne State University family was there to share in the moment with me."
Oh, and in case you were wondering about that headline, ho'omaika'i 'ana means congratulations in Hawaiian. Aloha!