First African-American Woman to Lead AMA will Deliver 35th Morehouse School of Medicine Commencement Address
Contact:
Bill Doughty, APR
404-752-1752
wdoughty@msm.edu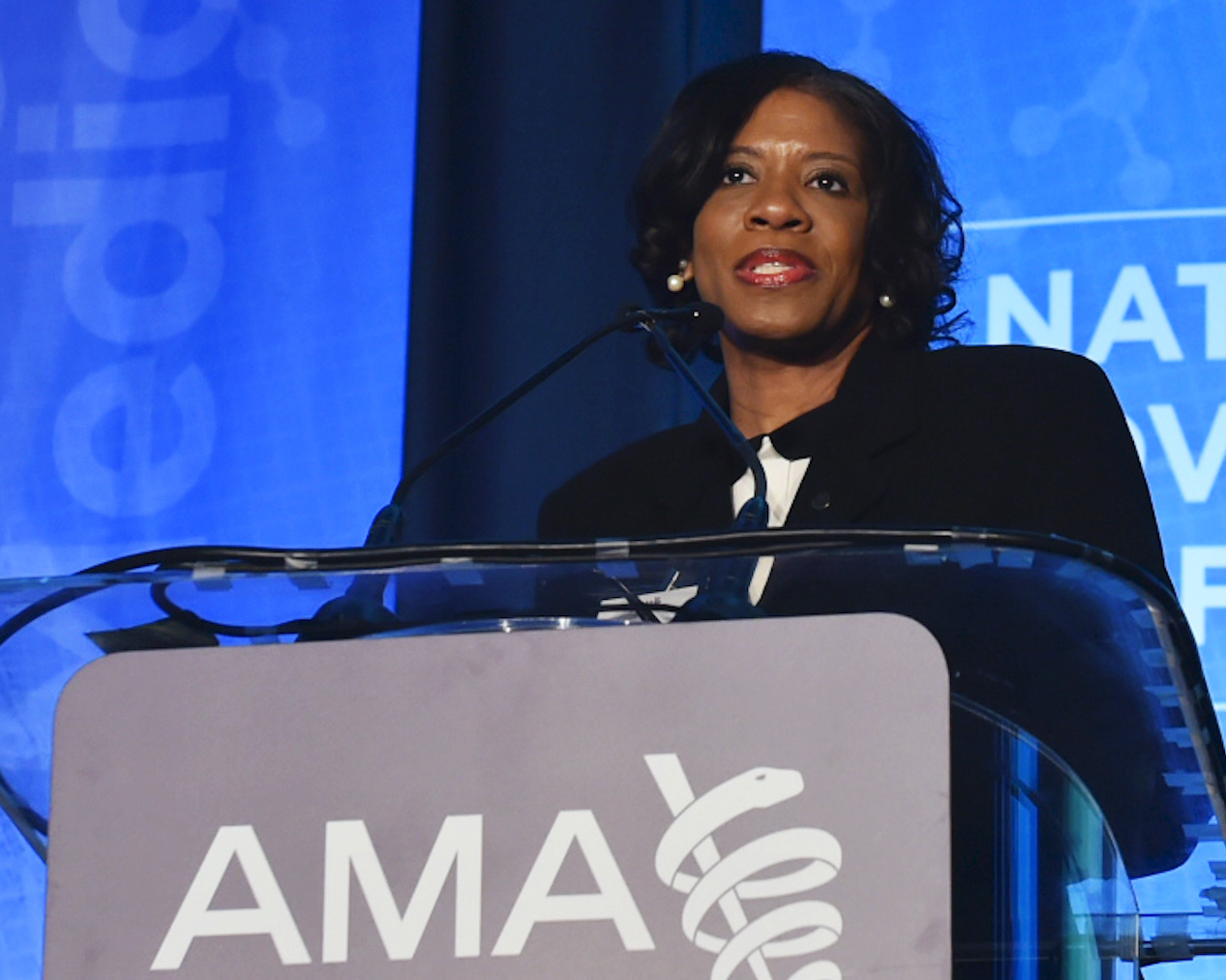 Dr. Patrice Harris
ATLANTA – Feb. 19, 2019 – Atlanta psychiatrist and health advocate Patrice Harris, M.D., the first African-American woman selected to lead the American Medical Association, will deliver the 35th commencement address for Morehouse School of Medicine on Saturday, May 18.
That interest in advocacy began with her first visit to the Georgia General Assembly, and Dr. Harris has since gone to bat on behalf of physicians and patients with White House officials, federal agencies, Congress, governors and state legislators.
First elected to the AMA Board of Trustees in 2011, Dr. Harris has held the executive offices of AMA board secretary and board chair. She will continue to serve as chair of the AMA Opioid Task Force. She has also chaired the influential AMA Council on Legislation and co-chaired the Women Physicians Congress.
Prior to her AMA service, she was elected to the American Psychiatric Association Board of Trustees and president of the Georgia Psychiatric Physicians Association. She was also the founding president of the Georgia Psychiatry Political Action Committee. In 2007, Dr. Harris was selected Psychiatrist of the Year by the Georgia Psychiatric Physicians Association.
As former director of Health Services for Fulton County, Dr. Harris spearheaded efforts to integrate public health, behavioral health and primary care services. Dr. Harris also served as medical director for the Fulton County Department of Behavioral Health and Developmental Disabilities.
Currently, Dr. Harris continues in private practice and consults with both public and private organizations on health service delivery and emerging trends in practice and health policy. She is an adjunct assistant professor in the Emory Department of Psychiatry and Behavioral Sciences.
Following a yearlong term as AMA president-elect, Dr. Harris will be installed as the AMA president in June 2019.
In addition to her M.D., Dr. Harris earned her B.A. in psychology and M.A. in counseling psychology from WVU, followed by a psychiatry residency and child psychiatry and forensics fellowships at Emory University School of Medicine, and a post-graduate fellowship with Emory University School of Law's Barton Child Law and Policy Center.
The 35th annual MSM Commencement ceremony takes place in the Martin Luther King Jr. International Chapel on the Morehouse College campus, 830 Westview Dr. SW, Atlanta, beginning at 9 a.m. as MSM confers doctoral and master's degrees on students who have fulfilled all academic requirements.
About Morehouse School of Medicine (MSM)
Founded in 1975, Morehouse School of Medicine (MSM) is among the nation's leading educators of primary care physicians, biomedical scientists and public health professionals. In 2011, MSM was recognized by Annals of Internal Medicine as the nation's No. 1 medical school in fulfilling a social mission. MSM faculty and alumni are noted for excellence in teaching, research and public policy, as well as exceptional patient care.
Morehouse School of Medicine is accredited by the Commission on Colleges of the Southern Association of Colleges and Schools to award doctoral and master's degrees. To learn more about programs and donate today, please visit www.msm.edu or call 404-752-1500.