MSM Remembers: Dr. Mukaila A. Akinbami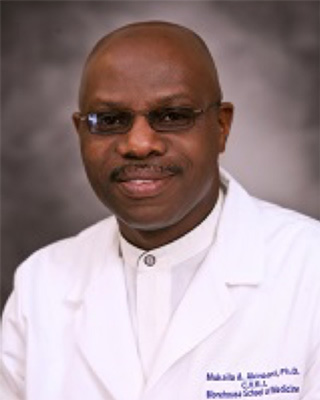 Dr. Mukaila A. Akinbami
We are saddened to share the passing of Mukaila A. Akinbami, Ph.D., former Associate Professor, Research Instructor and Lab Operations Manager in the Department of Physiology at Morehouse School of Medicine. He retired from Morehouse School of Medicine in 2016. Dr. Akinbami played an integral role in the development of the research enterprise at the institution during his career.
In 1990, he joined the Department of Physiology working with David Mann, Ph.D. as a post-doctoral fellow. Together they focused on defining the molecular and neuroendocrine mechanisms governing pubertal development in primates. They also investigated the potential role of thyroid hormone in the process of central nervous system remodeling that is essential for driving pubertal changes in relation to the pattern of gonadotropin-releasing hormone secretion in primates. Drs. Akinbami and Mann's research was highly impactful and contributed significantly to the reproductive research community at large.
In 2000, he transitioned to the Neuroscience Institute led by Peter MacLeish, Ph.D. and joined Holly Soares', Ph.D. laboratory to elucidate the role of a novel gene, Nna1, in Neuronal Regeneration. With the departure of Dr. Soares, Ph.D., he joined the newly established Cardiovascular Research Institute (CVRI) at Morehouse School of Medicine, then led by Gary Gibbons, M.D. (now Director of the National Heart, Lung and Blood Institute at the National Institutes of Health). From 2001 to 2016, Dr. Akinbami contributed significantly to the overall growth and development of the CVRI in his dual role as faculty and laboratory manager. While his research with Dr. Gibbons focused on hypertension, through his relentless dedication to ensure the smooth operations of the Institute, he became a key member of CVRI.
Dr. Akinbami also mentored students in the laboratory and contributed to the MSM educational enterprise as an instructor of several courses. He will be sorely missed by all his friends and adoptive family at Morehouse School of Medicine.
Services for Dr. Akinbami
Viewing/Wake Keeping
Friday, July 5, 2019, 6 p.m. – 8:30 p.m.
Dortch Williamson Funeral Home
1410 Highway 138, Riverdale, GA 30296
Funeral Service
Saturday, July 6, 2019 at 10 a.m.
Dortch Williamson Funeral Home
1410 Highway 138, Riverdale, GA 30296
Interment follows immediately at:
Sherwood Memorial Park and Mausoleum
6841 Tara Blvd., Jonesboro, GA 30236
Reception/Repast will follow immediately after burial at:
VIP Events Center
355 Upper Riverdale Road, Jonesboro, GA 30238
In lieu of flowers, funeral donations can be made payable and addressed to Terry Shoneye by:
Mailing: 12294 Styron Drive, Hampton, GA 30228 or by
Zelle: Please, write 'funeral donation' on the memo line (tassho52@gmail.com), or to
Wells Fargo Bank: Routing No. 061000227 Account no. 3111772186
Please RSVP to: Dr. Wale Adewunmi at (732) 688-5014