Match Day 2019: More Than A Third of Morehouse School of Medicine's Future Doctors to Continue Training in Georgia
Class of 2019 to Fulfill School's Mission of Providing Needed Physicians in Georgia and Serve in Primary Care Roles
Contacts:
Ronna Charles
404-752-1717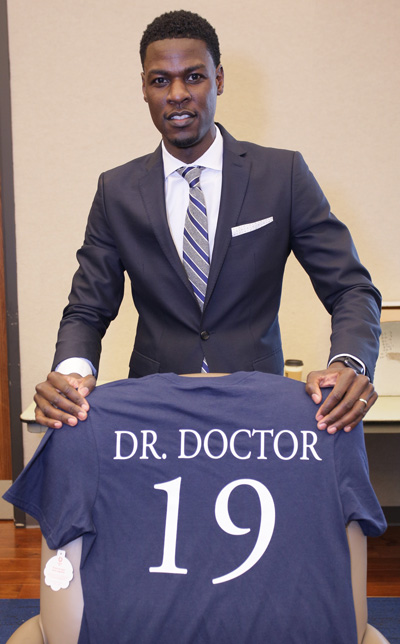 Doctor, Doctor, Mister M.D.
The aptly named Dr. Doctor – first name Aaron – is one of the 73 fourth-year M.D. students who learned where they will be serving their residency. The good Doctor won't be going far – he matched right here at MSM.
ATLANTA – March 15, 2019 – Morehouse School of Medicine is celebrating Match Day with 95 percent (73) of eligible fourth-year medical students matching to residency programs nationwide. More than a third of these future doctors will continue their medical training right here in Georgia and the majority (77 percent) matching to primary care and core specialties, a reflection of MSM's training mission.
"Morehouse School of Medicine is committed to increasing the number of doctors in Georgia, and especially in rural areas where medical access has been historically limited," said Morehouse School of Medicine President and Dean Valerie Montgomery Rice. "I am so pleased to see so many of our future doctors will be going out into these needed areas and helping to bring us one step closer to achieving health equity."
Match Day is an annual rite of passage for medical students at school across the United States. MSM students and their families recognized this achievement alongside faculty and staff during a ceremony in the school's Louis W. Sullivan National Center For Primary Care auditorium. The future doctors had the opportunity to thank those who encouraged and helped them to and through medical school before revealing to all where they will be serving their residencies.
MSM students matched to prominent medical centers across the country including Emory University School of Medicine, the Mayo Clinic, Gwinnett Medical Center and Duke University Medical Center.
Here are the Match Day results for Morehouse School of Medicine:
Total Number of Fourth-Year MSM Students in the Match
77
Total MSM Fourth-Year Students Matched
73 (95%)
Total Matched to Specialty of Their First Choice
62 (81%)
Primary Care Specialties
(Family Medicine, Internal Medicine, Internal Medicine-preliminary, Obstetrics and Gynecology, and Pediatrics)
52%
Primary Care & Core Specialties Disciplines
(Primary care plus Emergency Medicine, Psychiatry, General Surgery, and Surgery – preliminary)
77%
Total Matched to Georgia Programs
35%
Click here to watch the full 2019 Match Day Ceremony and view more photos from the day in our online gallery.
About Morehouse School of Medicine (MSM)
Morehouse School of Medicine (MSM), located in Atlanta, Georgia, was founded in 1975 as a two-year Medical Education Program at Morehouse College with clinical training affiliations with several established medical schools for awarding the M.D. degree. In 1981, MSM became an independently chartered institution and the first medical school established at a Historically Black College and University in the 20th century. MSM is among the nation's leading educators of primary care physicians and was recently recognized as the top institution among U.S. medical schools for our social mission. Our faculty and alumni are noted in their fields for excellence in teaching, research, and public policy, and are known in the community for exceptional, culturally appropriate patient care.
Morehouse School of Medicine is accredited by the Commission on Colleges of the Southern Association of Colleges and Schools to award doctorate and master's degrees.