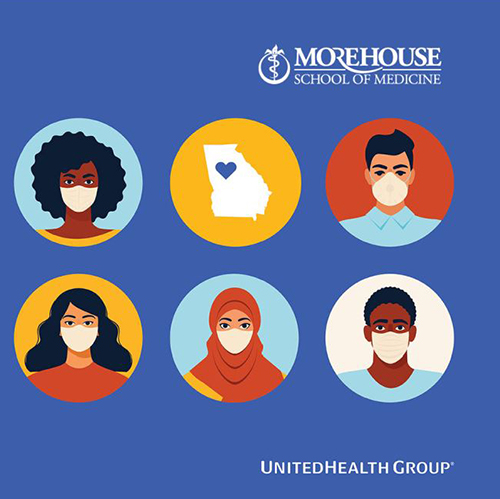 MSM and UHG Offer Free COVID-19 Testing
Morehouse School of Medicine Partners With UnitedHealth Group To Offer Free COVID-19 Testing In Areas Disproportionately Impacted By The Virus
(Morehouse School of Medicine, Atlanta) – December 10, 2020 – Morehouse School of Medicine will team up with UnitedHealth Group (NYSE: UNH), parent company of UnitedHealthcare, to offer free COVID-19 testing to address the needs of vulnerable communities, especially minority communities in Atlanta, who have been disproportionately impacted by COVID-19.
Minorities in the U.S. face significant health disparities putting these populations at higher risk of contracting COVID-19[1]. Furthermore, African Americans and Latinos are five times more likely to become sick from COVID-19 and African Americans are 3.5 times more likely to die from COVID-19 with Latinos twice as likely to die from the virus compared to white people[2].
"We are pleased to partner with United Health Group to bring these invaluable, lifesaving services to our neighborhood and community", said Chief Administrative Officer and Chief of Staff Monique Guillory, PhD. "It has been a tremendous asset to provide testing for MSM students and employees but it is a true realization of our mission to provide COVID 19 testing and these additional services to the West End neighborhood. We are proud of this work and thank UHG for their leadership in this nationwide effort."
In addition to non-invasive nasal swab testing, wraparound services will be provided to those getting tested, including free flu shots, food bags courtesy of Eat Right Atlanta, educational resources, information on other social services and health and safety kits containing face masks, hand sanitizer, contactless door opener, paper towels and toilet paper.
Testing is walk-up service only and available at Morehouse School of Medicine for all individuals regardless of their insurance provider or status. The testing site will be available Tuesdays, Thursdays, Saturdays and Sundays, starting December 12 until December 29. Hours of operation are 5:00-9:00pm Tuesdays and Thursdays (except 12/24) and 9:00am-4:00pm Saturdays and Sundays.
About Morehouse School of Medicine (MSM)
Founded in 1975, MSM is among the nation's leading educators of primary care physicians and was recognized by Annals of Internal Medicine in 2011 as the top institution in the first study of U.S. medical schools for our social mission based on our production of primary care physicians, training of underrepresented minority doctors and placement of doctors practicing in underserved communities. Our faculty and alumni are noted for excellence in teaching, research and public policy, as well as exceptional patient care. For more information, visit msm.edu.
Contact:
Shondria Covington
(678) 878-8700
scovington@msm.edu
[1] https://time.com/5800930/how-coronavirus-will-hurt-the-poor/
[2] https://time.com/5800930/how-coronavirus-will-hurt-the-poor/