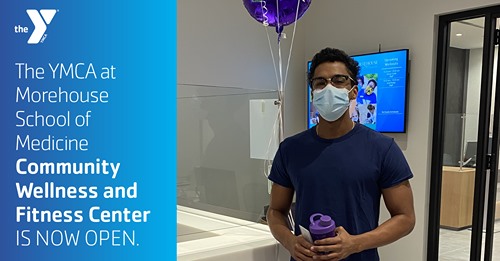 MSM Opens New Community Fitness Facility in Partnership with YMCA of Metro Atlanta
10,000-SF facility provides MSM, surrounding West End community with state-of-the-art cardio and strength equipment.
(Atlanta) December 10, 2020 – The YMCA at Morehouse School of Medicine Community Wellness and Fitness Center, a new 10,000-square-foot fitness facility operated by the YMCA of Metro Atlanta, is now open. The YMCA will staff and oversee the facility to help meet MSM's goal of offering students, faculty, staff and the local community a world-class center for health and wellness.
Located at 455 Lee Street just off Interstate 20, the first-floor fitness center features numerous cardio and strength equipment, functional training space, exercise studios for group and individual instruction, and four distinct core areas of use: cardio, resistance, free weights/dumbbells and group exercise. The center also features individual programs from Y branch locations such as Cycle, Zumba, Pilates/Barre, HIIT, Yoga and Y Fit/Boot Camp. The YMCA facility replaces Morehouse School of Medicine's current student/employee fitness center.
"This unique partnership with the Y is a wonderful addition to our new Lee Street facility and a perfect complement to our Morehouse Healthcare practice in that building, bringing new health and wellness resources to the serve the entire West End community as well as our students and employees," said MSM President and Dean Valerie Montgomery Rice, MD. "We know that regular exercise provides numerous physical and mental health benefits. The Y offers our students a much more robust fitness center with greater options to meet our growing enrollment and presents area residents with a new wellness option."
The collaboration between the Y and Morehouse School of Medicine is designed to ensure programming is innovative and appeals to all members with emphasis on MSM student and employee interests. In addition to MSM, the facility is also open to students and employees from the Atlanta University Center (comprising Morehouse College, Spelman College and Clark Atlanta University in addition to MSM) and West End community residents to join as Y members. All members of the Y at MSM can use any Metro Atlanta YMCA.
"These programs are a continuation of our dedication to promote a healthy, confident and connected community," said Lauren Koontz, president and CEO of the YMCA of Metro Atlanta. "Through this partnership with the Morehouse School of Medicine, the Y and MSM will work towards our shared focus of improving health equity in our community by specifically addressing disease prevention and holistic wellness."
The facility opens with limited occupancy and extensive cleaning protocols in place according to CDC COVID-19 guidelines.
About the Morehouse School of Medicine
Morehouse School of Medicine (MSM), located in Atlanta, Ga., was founded in 1975 as the Medical Education Program at Morehouse College. In 1981, MSM became an independently chartered institution. MSM is among the nation's leading educators of primary care physicians and was recently recognized as the top institution among U.S. medical schools for our social mission. Our faculty and alumni are noted in their fields for excellence in teaching, research and public policy.
MSM is accredited by the Accreditation Council for Continuing Medical Education, Accreditation Council for Graduate Medical Education, Council on Education for Public Health, Liaison Committee on Medical Education and Southern Association of Colleges and Schools. https://www.msm.edu/
About the YMCA of Metro Atlanta
For more than 160 years the YMCA of Metro Atlanta has been impacting lives and strengthening communities. As Atlanta has grown, the YMCA has also evolved to meet the changing needs of our community. Well-thought-out planning, while engaging stakeholders at various levels, provides the backdrop for sustainable change and positive impact at the YMCA of Metro Atlanta. By providing impactful services and support networks, and building bridges between people from all backgrounds, the Y has maintained its relevance, helping to create stronger, more cohesive communities for all. https://www.ymcaatlanta.org/160