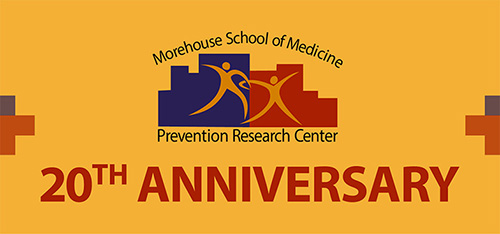 MSM Receives 5-year Award from the Centers for Disease Control and Prevention for Health Promotion and Disease Prevention Research Center (PRC)
January 29, 2020
The Centers for Disease Control and Prevention has awarded a $3.75 million grant to the Morehouse School of Medicine Prevention Research Center (PRC). The overall goal of the PRC is to implement community-engaged, evidence-based strategies in response to obstinate and emerging health disparities/inequities thereby advancing applied public health prevention and health equity. The PRC will include a research infrastructure consisting of training, communication, evaluation and community components designed to lead and collaborate with both academic, community and agency partners to scale and disseminate public health prevention strategies. It will also lead an implementation research study to test an evidence-based HIV testing, education and condom distribution intervention in collaboration with minority serving institutions in surrounding communities and local health departments in rural and urban areas across the State of Georgia.
"For over twenty years, the MSM PRC has led our institution's efforts to advance a nationally recognized community-based participatory research (CBPR) model operationalizing community lead research – from conceptualization to dissemination – across a spectrum of health disparities (e.g. HIV, cardiovascular health, diabetes, cancer, behavioral and mental health, among many others). This model has been locally, nationally and globally recognized as an exemplar in advancing the art, science and practice of community engaged research with demonstratable impact," says Sandra Harris-Hooker, Ph.D., Professor and Executive Vice Dean for Research and Academic Administration at Morehouse School of Medicine.
The PRC is governed by a policy-making Community Coalition Board that governs its research to ensure community resonance and attention to social determinants of health. Over the next five years (2019-2024) the Center will bring together research, agency and community expertise to 1) conduct research that is informed by community members, the organizations that serve them and academic partners with expertise in implementing and evaluating public health programs 2) train underrepresented community-based researchers and public health practitioners and 3) demonstrate the value of community coalitions in conducting research. The PRC's efforts will place emphasis on African American and other minority and disparate populations experiencing persistent health disparities across the state of Georgia.
"The PRC will expand upon a deeply-rooted CBPR legacy through approaches that bring together rigorous science, uncompromised community engagement, and policy systems and environmental change partners towards implementation of what we learn and how we lead in the beyond the academy-in real-world where health equity change occurs" says Tabia Henry Akintobi, PhD, MPH, Professor of Community Health and Preventive Medicine and PRC Principal Investigator.
The CDC National Center for Chronic Disease Prevention and Health Prevention funds the PRC as part of a 25-center network designed to develop, test, and/or evaluate public health interventions for wide application and translation, particularly in underserved communities, based on the latest science. To learn more about the Morehouse School of Medicine PRC visit: https://www.msm.edu/Research/research_centersandinstitutes/PRC/index.php
###
ABOUT MOREHOUSE SCHOOL OF MEDICINE
Morehouse School of Medicine (MSM), located in Atlanta, Ga., was founded in 1975 as a two-year Medical Education Program at Morehouse College with clinical training affiliations with several established medical schools for awarding the MD degree. In 1981, MSM became an independently chartered institution and the first medical school established at a Historically Black College and University in the 20th century. MSM is among the nation's leading educators of primary care physicians and has twice been recognized as the top institution among U.S. medical schools for its dedication to the social mission of education. The faculty and alumni are noted in their fields for excellence in teaching, research, and public policy, and are known in the community for exceptional, culturally appropriate patient care. Morehouse School of Medicine is accredited by the Commission on Colleges of the Southern Association of Colleges and Schools to award doctorate and master's degrees.