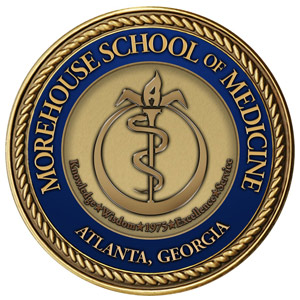 MSM's Fall Plans Unchanged amid AUC Institutions' Decision
MSM's Fall Plans Unchanged amid AUC Institutions' Decision
School Continuing Mix of Online, In-Person Classes as Semester Begins
Atlanta, GA – July 20, 2020 – Morehouse School of Medicine will continue rollout of its fall semester mixing online and in-person sessions to deliver courses, while supporting today's decision by fellow Atlanta University Center Consortium institutions to move exclusively to online courses for fall, says MSM President and Dean Valerie Montgomery Rice, MD.
"Spelman, Morehouse College and Clark Atlanta University have decided to hold their fall classes online only," Dr. Montgomery Rice noted. "We are sure that was a difficult decision but one made with all due diligence, based on science and data, and with the utmost regard for the health, safety and welfare of their students, faculty, and staff in mind, just as we do here at Morehouse School of Medicine."
All three institutions earlier announced plans to follow a similar hybrid model on their campuses this fall, but reversed course in light of spikes in COVID-19 cases in Georgia and nearby states. Dr. Montgomery Rice notes that as primarily undergraduate institutions, those schools have a much wider range of needs and concerns when it comes to their students, compared to a professional school such as MSM, where students are usually older and there are fewer outside activities like athletics or Greek life involved.
Fall semester is already underway for MSM's Physician Assistant Studies Class of 2022 and first-year MD students, with the remaining PAS, MD students and the Graduate Education in Biomedical Sciences and Graduate Education in Public Health programs all starting by mid-August. Most classes take place online, supplemented by small group in-person sessions focused on skills training, clinical rotations, research, and similar activities not suited for online delivery.
Earlier this year, MSM leadership committed to resuming campus operations, which began for employees in mid-May. The reason is simple, says Dr. Montgomery Rice. Not only is it the institution's responsibility as healthcare educators and providers; MSM's very mission demands it.
"MSM has a unique mission to lead the creation and advancement of health equity. It is what we do best, and it has never been more needed as our country struggles against the ravages of a pandemic and the increasing cry for social justice and change," the President and Dean remarked. "We are training the next generation of culturally competent healthcare professionals. At a time when the number of COVID-19 cases, hospitalizations and death rates are highest among people of color, we must remain resolute in our focus."
MSM continues to follow protocols established to safeguard the health and wellbeing students, faculty and staff as part of the return to campus. These include:
Initial COVID-19 testing before any employees or students may return to work or classes, with plans now in the final stages for random, periodic follow-up testing.
Daily screening including temperature checks and a questionnaire submitted using a smartphone application. Campus is closed to visitors except with prior approval; they also must be screened.
A requirement to wear facemasks throughout campus unless alone in a classroom, office, etc., and to maintain social distance at all times.
Rotating work and class schedules that limit the number of people on campus at any one time.