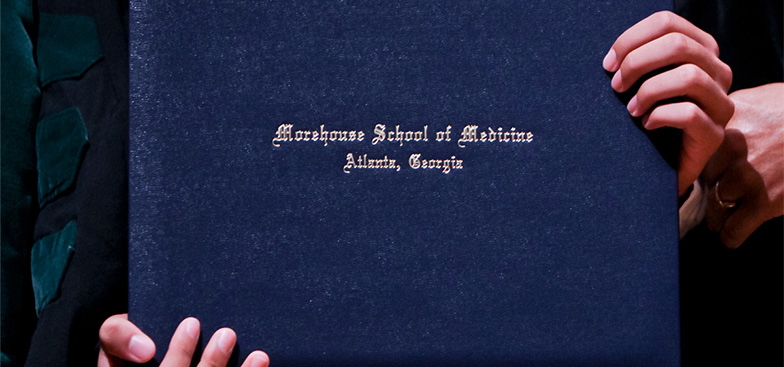 Morehouse School of Medicine Celebrates Graduates with Virtual Performance by Ten-Time Grammy Award Winner and Philanthropist John Legend
Graduates from medical, public health, biomedical sciences programs to be joined in the interactive ceremony by history makers, celebrities and past MSM presidents; NIH Researcher Dr. Gary H. Gibbons to deliver commencement address, May 16
ATLANTA—May 14, 2020—Grammy Award-winning singer, songwriter, actor and philanthropist John Legend will join the 2020 virtual commencement exercises hosted by Morehouse School of Medicine (MSM), the institution announced today. This year, MSM will celebrate the matriculation of more than 150 medical doctors, biomedical scientists, and public health practitioners.
Legend is one of only fifteen people and the first black man to have won an Emmy, Grammy, Oscar and Tony award (EGOT). The 2020 ceremony can be viewed online Saturday, May 16th at 10 a.m. at https://msm.sharedstudios.events/1/921fa80225ac.
The event will also be filled with special words of encouragement from notable celebrities, history makers and past presidents of MSM, including prior Secretary of the U.S. Department of Health and Human Services and Surgeon General, Drs. Louis W. Sullivan and David Satcher, respectively. Basketball legend and Atlanta Hawks co-owner Grant Hill, syndicated talk show host Tamron Hall and a cadre of others will also join the program.
"We could not be more proud of our graduates, each embarking on their next journey to continue providing healthcare and conducting research that examines the biological underpinnings of the world's most complex health issues that disproportionately impact underserved and underrepresented communities," said Valerie Montgomery Rice, MD, President and Dean of Morehouse School of Medicine.
The virtual ceremony will include many elements that characterize typical commencement exercises including processional music, the conferral of degrees and an inspirational commencement address from Gary H. Gibbons, M.D., director of the National Heart, Lung, and Blood Institute (NHLBI) at the National Institutes of Health.
This year's program will also integrate opportunities for live online interaction among graduates, their families and friends, faculty and staff, as well as institutional donors and partners. To deliver the ceremony, MSM has partnered with Shared Studios, a New York City-based company that exists to create meaningful human connections between people separated by distance. "It's a great privilege to be able to use our ability to connect people across virtual environments to honor the accomplishments of these students and recognize the vital roles they will play after graduation," says Michelle Moghtader, co-founder of Shared_Studios.
The weekend of celebrations will kick-off on Friday, May 15 with the traditional By These Healing Hands Ceremony at 10 a.m. and Class Day at 3 p.m. The celebration will continue Saturday, May 16 at 10 a.m. with the virtual commencement, featuring a special performance of Lift Every Voice and Sing by Legend. The weekend concludes with an Alumni Awards and Reunion Celebration on Sunday, May 17 at 2 p.m., announcing the MSM Distinguished Alumni Award recipient.
For more information about the event, visit www.msm.edu/commencement.
About Morehouse School of Medicine
Morehouse School of Medicine (MSM), located in Atlanta, Ga., was founded in 1975 as a two-year Medical Education Program at Morehouse College with clinical training affiliations with several established medical schools for awarding the MD degree. In 1981, MSM became an independently chartered institution and the first medical school established at a Historically Black College and University in the 20th century. MSM is among the nation's leading educators of primary care physicians and has twice been recognized as the top institution among U.S. medical schools for its dedication to the social mission of education. The faculty and alumni are noted in their fields for excellence in teaching, research, and public policy, and are known in the community for exceptional, culturally appropriate patient care. Morehouse School of Medicine is accredited by the Commission on Colleges of the Southern Association of Colleges and Schools to award doctorate and master's degrees.
Media Inquiries:
For ceremony viewing access and embargoed video footage, please contact:
Brittaney J. Bethea
Morehouse School of Medicine
678-548-1940 (cell)
bbethea@msm.edu