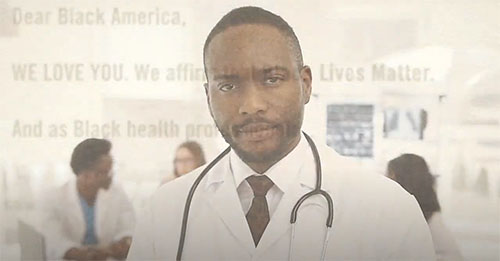 Love Letter to Black America
Dear MSM Community,
I am pleased to announce that Morehouse School of Medicine has been working in partnership with all of our historically Black medical schools, the National Medical Association, the Cobb Institute/NMA, the National Black Nurses Association, The National Urban League and blackdoctor.org to address the challenges presented by COVID, and to enhance participation in vaccine clinical trials and vaccine acceptance.
Today, we are launching our "Love Letter to Black America, from America's Black Doctors and Nurses" campaign. This initiative is designed to begin a national conversation, speaking directly to our community. We will communicate our love for our community and our commitment to providing the Black community with trustworthy expertise and scientifically factual information upon which they can reliably make personally appropriate health decisions. You are encouraged to watch the love letter video. You can find more information about this initiative and add your signature to the love letter by visiting the Black Coalition Against COVID's website.
I am specifically asking that you share this message with your professional and personal networks via email and/or social media. Feel free to personalize your email message by including why you are committed to protecting the health and safety of the Black community.
To make social media formats as convenient as possible for you, below we have included sample social media language you can copy and paste. Be sure to include the hashtag #ILoveUs and to also tag Morehouse School of Medicine along with @BCAgainstCOVID on Twitter and Instagram. You can also tag BCAC19 on Facebook. Please use the #ILoveUs hashtag if you plan to share on LinkedIn.
Sample social media language that you can copy and paste:
Dear Black America, #ILoveUs. As a Black health professional, I want to ensure our community is safe and healthy as we see #COVID19 cases spiking across the country. Please wear your mask, wash your hands, and consider different ways to celebrate with loved ones this year. bit.ly/371DAqC
Thanks for all you do to advance health and science for your patients and the communities in which they live!
Sincerely,
Valerie Montgomery Rice, MD
President and Dean